The Círculo de Bellas Artes is a Madrilenian private entity dedicated to activities in the world of art and science. We can say that the main aim of this multidisciplinary centre is the diffusion of culture in all its aspects, from music to literature as well as films, plastic arts, performing arts and even philosophy. It is located in Calle de Alcalá and it may be overshadowed by the large numbers of historic buildings that surround it, as it stands in one of the areas where the most beautiful buildings in all Madrid are located. Nonetheless, this is an irreplaceable space in the capital not only because of its history, but also because it carries out an important effort as a propagator of culture.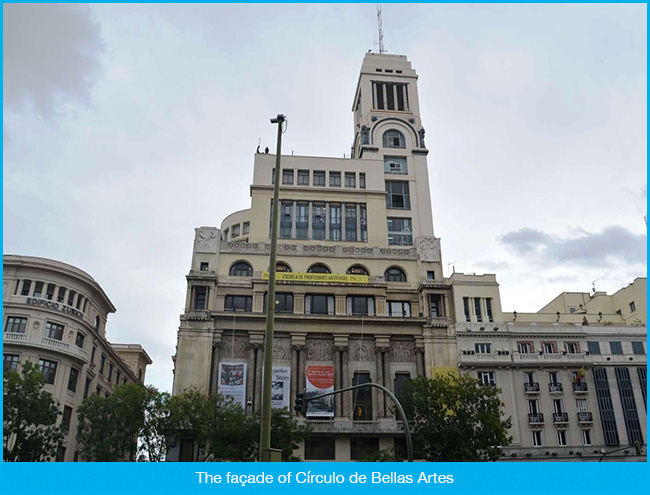 If take a walk from Sol to Cibeles or if we just stroll along Calle Alcalá we will come across it. We strongly recommend visiting it; first of all because this building is part of the history of Madrid as we will now see; secondly, because when we go there it will probably hold inside an exhibition or a cultural event which will interest us; and lastly, because one of the things which is a must in Madrid is to enjoy its terrace café, even if it is once in our lifetime. In our section Places with a lot of History, we last visited the Lázaro Galdiano Museum. Today, we are going to learn more about the Círculo de Bellas Artes.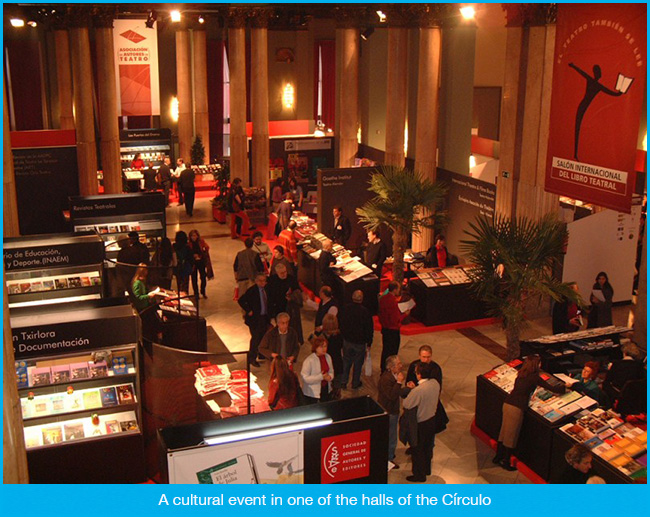 A REFERENTIAL CENTRE OF CULTURE
The Círculo de Bellas Artes is a non-profit private entity that was founded by a group of artists in 1880. In December 1879, its regulations were approved and the first central office was housed in 5, Calle Barquillo. Later, this entity changed its location several times until 1926 when the central office was moved to Calle Alcalá (the sculptor Antonio Palacios helped to draw up the plans). In 1921, before becoming the Círculo de Bellas Artes, this edifice was declared Centre for the Protection of the Fine Arts and of Public Benefit. We can say that the best of the best of the Spanish world of culture joined and connected at some time and in one way or another in the Círculo de Bellas Artes. Illustrious and distinguished people like Jacinto Benavente or Carlos Arniches formed part of the executive board and prominent personalities like José María del Valle-Inclán or a very young Pablo Picasso frequented the salons so as to be in contact with the cultural atmosphere that was present in Madrid.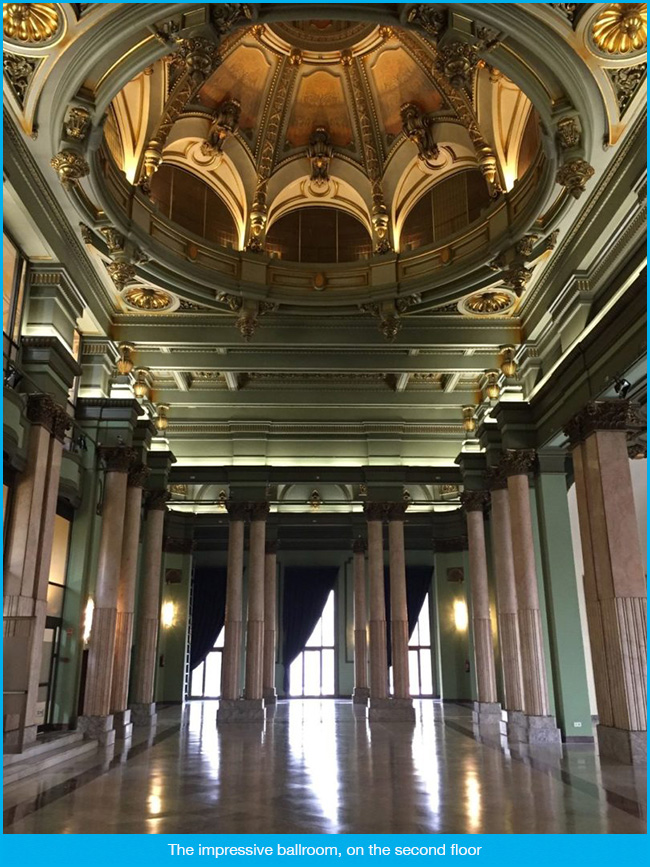 The Círculo de Bellas Artes has, in all, seven floors all which are full of grandeur and reflect a stately atmosphere as does the whole edifice. This entity hosts exhibitions of painting and photography, lectures and colloquiums, the showing of literary elements as well as philosophical debates. All these activities have been taking place for over a hundred years and this entity continues to be a reference in terms of culture. To sum up, we can say that on the ground floor we find the cafeteria and the restaurant; on the first floor, a cinema that can accommodate more than 200 people; on the second floor, there is a theatre with 500 seats and an impressive ballroom; on the third floor, there is the boardroom; on the fourth floor we find the vestibule De la Fuentecilla; on the fifth floor there are four halls for exhibitions and lectures and on the seventh floor we can admire the beautiful terrace.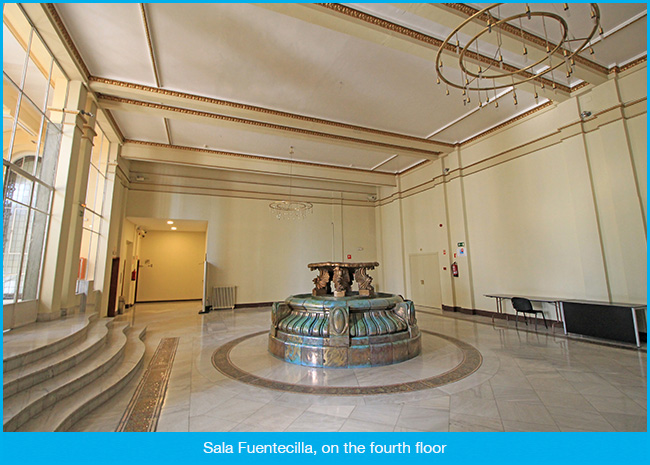 A TERRACE THAT RENDERS YOU SPEECHLESS
We want to talk about this terrace because it is a place that you really must visit as it will take your breath away. It is more than 50 metres high and its view of all Madrid will leave you speechless. On a clear day, you can see as far as Sierra de Guadarrama.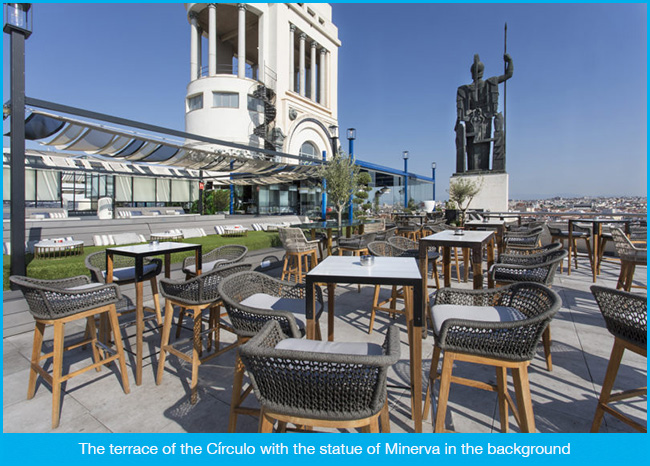 On the terrace, there is a cafeteria and a restaurant  and we can also admire the statue of Minerva the important icon of the Círculo de Bellas Artes. This statue is nearly 8 metres high and weighs more than 3 tons. It was built in 1966 being a point of reference in the skyline of Madrid. The profile of the head of Minerva serves as the logo of the Círculo since 1880.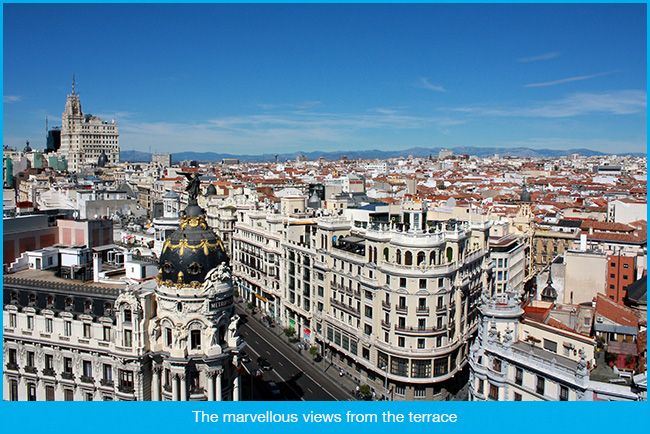 DID YOU KNOW THAT…?
In 1926, Valle-Inclán put on Ligazón. Auto para Siluetas in Círculo de Bellas Artes with his company El Cántaro Roto. 
Pictures 02, 03 y 05: Círculo de Bellas Artes
Picture 04: Zaqarbal
Picture 06: Trevor Huxham