The 1920s was a time when the Madrileños were trying to put behind the First World War whilst looking to the future with hope. In those days, in the capital city, 8.000 vehicles were on the roads as well as hundreds of trams and had a population of 800.000 inhabitants.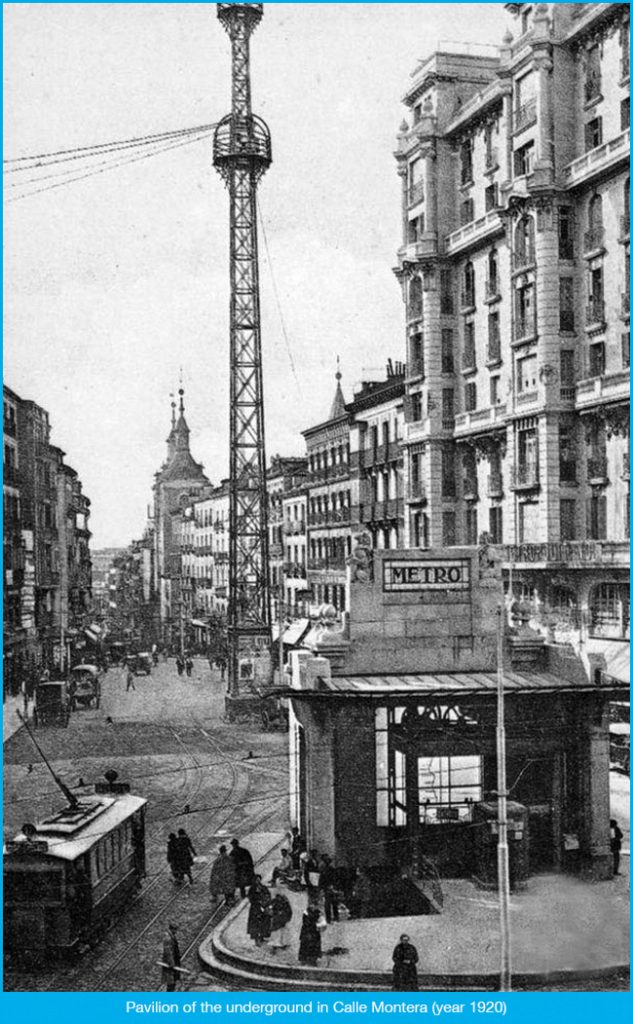 The horror of the war had to be forgotten and there was a need to focus on scientific and technological development in order to be able to live through better times. Leisure was valued and appreciated more than ever and the theatres, cinemas and cafés in Madrid contributed towards its success, some of them even providing 24-hour service. People wanted to have fun and make up for the time lost due to the war. Those days enjoyed relative prosperity and were known as the roaring 20s due to a more or less peaceful and optimistic period where a certain bonanza and well-being took place.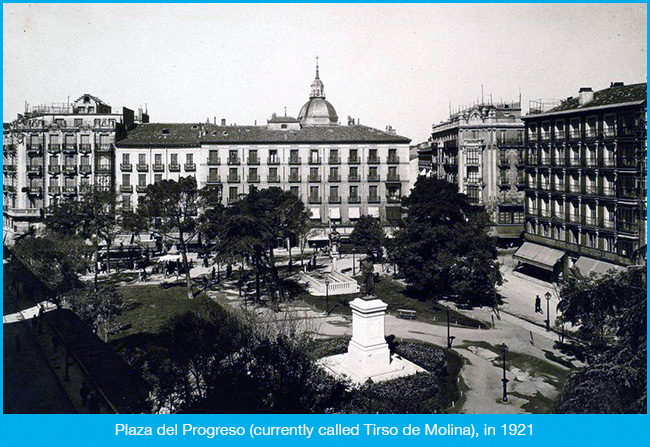 Dreams were in the air as well as brimming vitality: everybody wanted to make a fresh start in order to live a new era which resulted in parties that stirred up the city with joy and enthusiasm.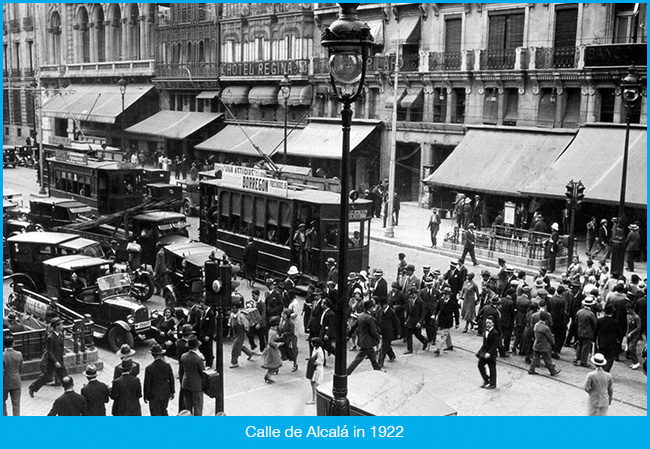 But what was Madrid like in the 1920s? Thanks to these valuable photographs that we are sharing with you, we can get an idea of what Madrid was like just a century ago. How much have things changed in a hundred years? We invite you to come with us and visit Madrid in the 1920s in our section A Walk into the Past, where our last article was about Paseo de Recoletos. Will you join us in this journey through time?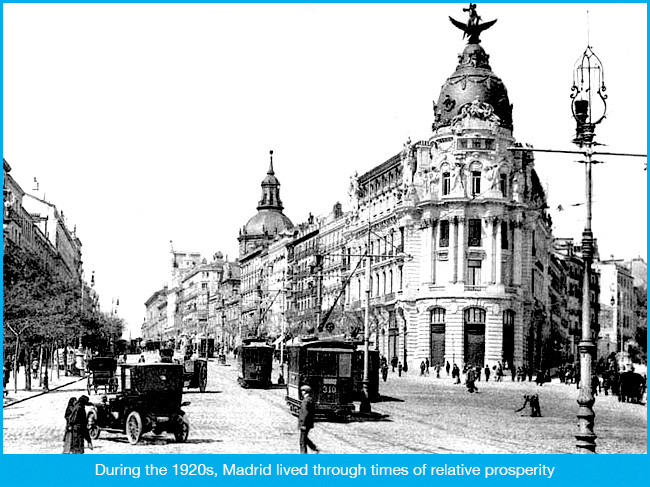 A BREATHTAKING MADRID
In 1920, the underground in Madrid had started to exist only a year before and had just one metro line, Subway 1 Line. Those were times of cinemas and theatres: Cine Encomienda (Calle Encomienda), Cine Doré (Calle Santa Isabel), Cine de la Prensa and Palacio de la Música (Gran Vía). Also, Teatro de la Latina (La Latina), Teatro Progreso (Tirso de Molina), and Teatro Novedades (Calle Toledo). All of them were the favourite places of entertainment for the people of Madrid.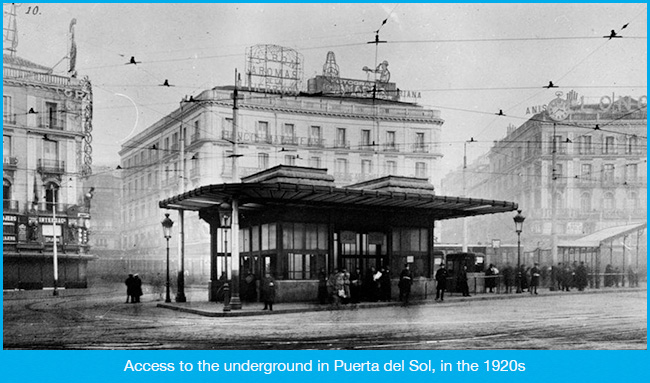 We can say that in those years the pictures, art, fashion and music changed fast and this gave the city a spirit of effervescence. Little by little women started to enter the labour market; they had their hair cut in garçonne style, they shortened their skirts and wore new articles of clothing such as feather boas, hairnets and headdresses.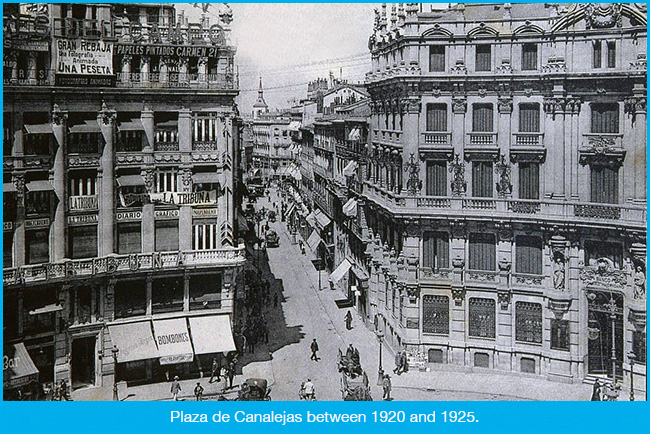 The radio and the gramophones came along as well as tabletop telephones; the cafés set the pace of new rhythms which made Madrid sound futuristic and where everything changed at a frantic speed.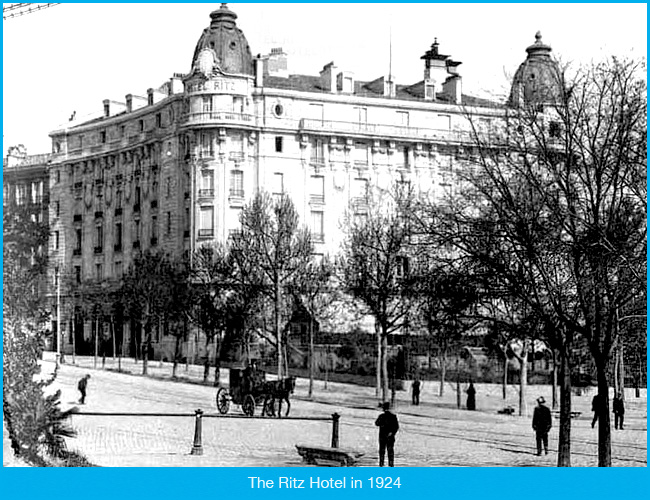 Sometimes , the Madrileños had the impression that they were running out of breath as they had to assimilate technological changes and developments without having hardly any reaction time.