Estufa Fría de Madrid or the Cold Greenhouse, is located in Parque Juan Carlos I. It is an enclosed space with its own microclimate which enables a fantastic flora to grow. This singular structure is in the middle of the park which is, in turn, located in Barrio de Hortaleza in the north-east of Madrid, close to Barajas. This park is not very well known nor does it have many visitors as it is far from the bustling city centre. Nevertheless, it is worthwhile visiting so as to enjoy the large number of plants that grow there. Estufa Fría is quite a site to behold as it has many different and rare kinds of plants and trees. It is a unique place and it was created along the lines of one which is located in Lisbon. This Cold Greenhouse will not fall short of any visitor´s expectations. Today, we have chosen to write about this green space in the north of the capital. Some time ago, we wrote about Casa de las Flores. Do you feel like knowing more about it?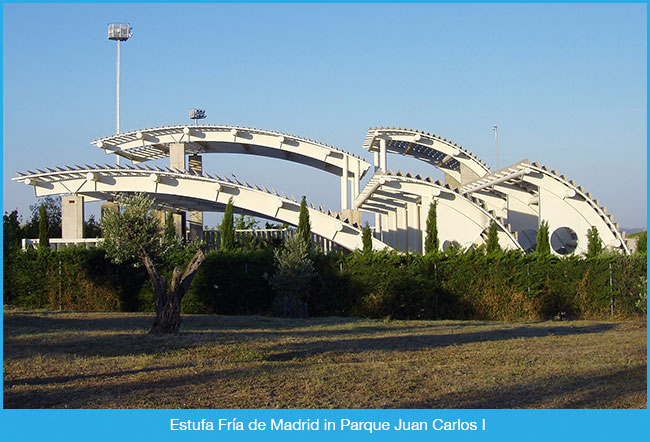 A SUSTAINABLE AND GREEN SPACE
In Estufa Fría de Madrid, nothing was left to chance. It was built in 1996, and the planning of adequate conditions which would favour the growth of every plant there was very carefully considered.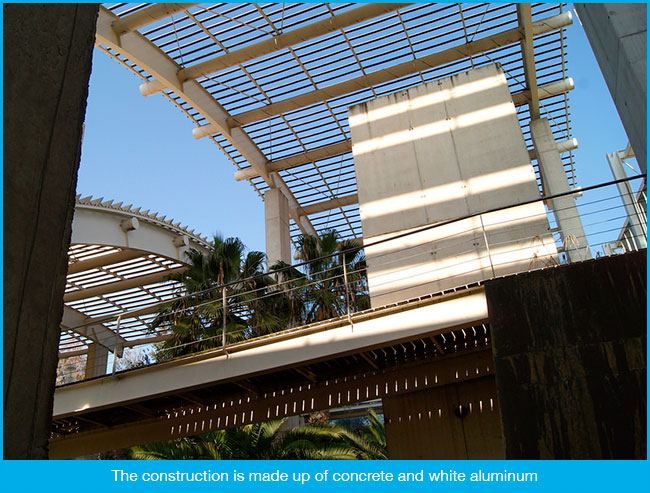 The construction is made up of concrete and white aluminum and has an extension of 4.000 square metres and it is 12 metres high. The space has panels made of concrete which have been placed to create shade when sunlight is bright in order to protect the plants in summer from direct solar rays.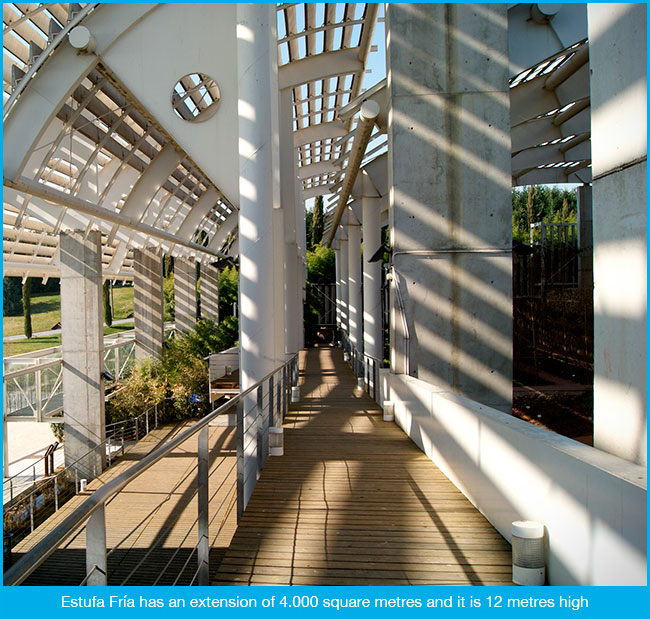 This Cold Greenhouse was also designed to avoid the freezing of plants in winter by means of a water spraying system which creates a misty atmosphere that reduces the cold impact and hence, prevents plants from freezing. However, what does this Cold Greenhouse boast about apart from having a striking architecture and a great plant collection? The most interesting issue is that heat is produced with systems of passive solar heating. This means that outdoor energy is used so that electric power is not necessary to heat the space. The heating system is natural and this makes it a green and sustainable space which takes advantage of its natural resources so as not to contaminate. To put it another way: Estufa Fría is a small botanical garden which produces its own heating.
ALL KINDS OF PLANTS AND TREES
Inside Estufa Fría, you can find countless varieties of plants and trees. Precisely because of this, as well as the mix and combination of every kind of species, the garden is extremely attractive as it would be impossible to see all these species together in the great outdoors.
There are not only fruit trees but also palm trees as well as different varieties of bamboo, maple trees, conifers, aromatic plants, aquatic plants… even a Japanese garden! It would be impossible to list all the different kinds of species you can find there. In 2008, an exclusive collection of exotic plants was created and it consisted of more than 220 species. Undoubtedly, this space is of great interest for people who are fond of botany or those who are nature-lovers. This place also attracts architecture enthusiasts due to the fact that in 2001, it was awarded Mención de los Oficios (Special Services Mention) in the Premios de Arquitectura y Vivienda de la Comunidad de Madrid.
Picture 01: Malopez21
Rest of pictures: Viviendo Madrid