Idoia Otegui has been an architect for nearly 20 years and she has received important awards and acknowledgements, even though she is very young. Idoia set up an architect´s office called PO2. However, at present, she exercises her profession on her own. We have recently written about her in this blog concerning her project on a penthouse in Chamberí. We want to know more about her and therefore we will start , in this blog, a new section called Estate One Interviews. It is an honour to begin it with a chat with Idoia.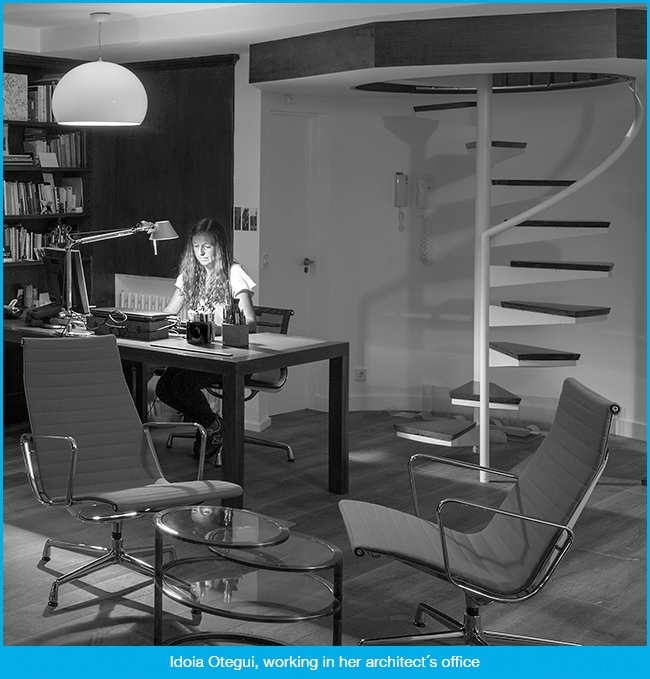 Hello Idoia, welcome to the blog of Estate One. When did you start being interested in architecture? What appealed to you about this profession?
I started to be really interested once I began my architecture university course. I had always wanted to study something related to design, because of my creative spirit. However, I did not want to study 6 more years. When I started the course, I was told that the following year a new career, focused on industrial design, would begin for the first time. Up to that time, this career only existed in Barcelona. Therefore, I decided to start studying architecture with the intention and idea of switching to this new course a year later. Funnily enough, I fell head over heels in love with architecture. Until today. Sometimes I think that if I had studied a creative course, I would never have been an architect.
What do you like most about your work?
The process of creating a project, which fulfills my creative spirit. The first ideas and its development. I also like the building work and even how it smells! You have to fight hard in order to make things work out as you want them to. However, it is very rewarding to see your ideas developed and built.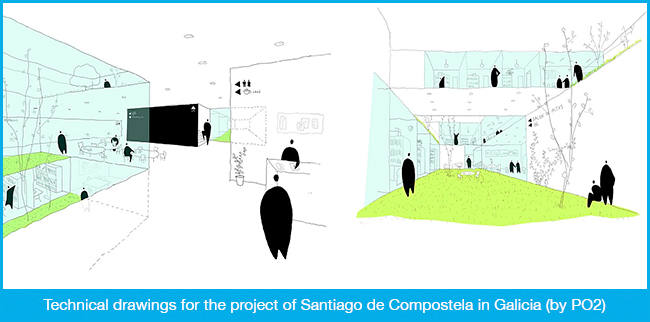 Which part do you think is the most unrewarding?
The regulations and the paperwork. Believe it or not, in order to develop and build a project, we invest a lot of time on filling in forms, reports, thousands of pages of documents as well as requirements issued by the City Hall. I do not exaggerate. The fact of developing good ideas and architectural spaces which people can use and enjoy, does not take us as much time!
Which qualities and talents do you think a good architect should have?
Nowadays many! Creativity, enormous capacity for hard work, command of professional technique, legal knowledge, psychology and ability to listen to the client, time and budget management, skill to direct and guide not only the office team but also the trades which take part in the building work. I must also add patience, to have a way with your team, productivity… Do you want me to continue? You must be a superman!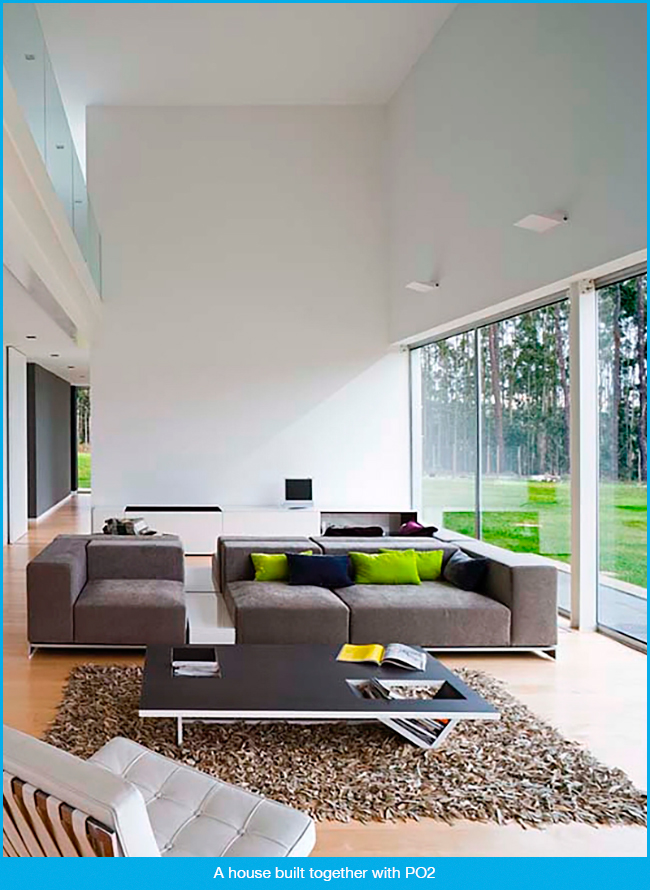 In our blog we dedicate a section to some historic buildings in Madrid. Architecturally speaking, which are your favourite ones?
I like Edificio España, where I lived for 10 years, very much. I must say that this building has attracted a lot of attention. I am also very fond of the BBVA Tower built by Oiza, the Colegio Maravillas Gym by Sota, the Círculo de Bellas Artes, Calle Gran Vía, Caixa Forum….
Many people think that Madrid is an unlivable city. As an architect, which is your opinion?
I am not objective because I like Madrid a lot and I consider myself a city dweller and a townie. I love walking around Madrid and I think it is a pleasant city and easy to live in. As an architect, I must state that what I really like is the centre of the city. As we move further away from the city centre, it becomes proportionally more ruined and spoilt. I consider the outskirts unlivable as well as the suburban developments and the Urban Planning Initiatives, in Spanish called Programa de Actuación Urbanística (PAU). These plans started to be built at the end of the XX and XXI century.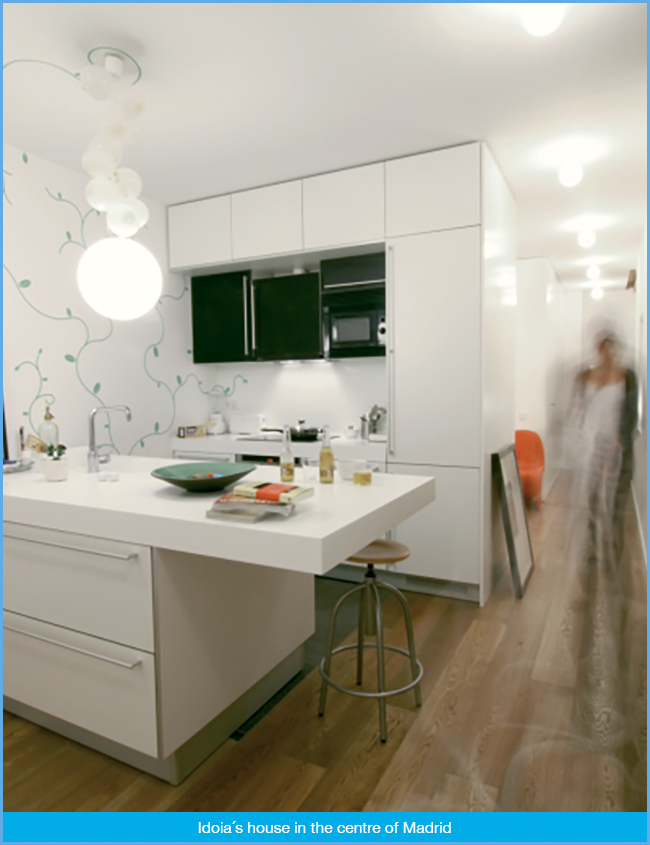 What do you think Madrid needs concerning urban development, in order to make it a more agreeable city?
I regard the outskirts and the PAUS of Vallecas or Sanchinarro, an absolute disaster. From my point of view, these areas are not exemplary and should be improved. Concerning the city centre, I think that traffic jams which often cause gridlock, are the main problem. We have to cope with the increase of private cars and public transport as well as motorbikes, bicycles, tourists, passers-by, the delivery of goods… This is not an easy challenge. We cannot pedestrianize all the streets or ban the use of private vehicles. The problem is very complex.
Did you take part in a travelling exhibition throughout the world which was called "Madrid, 100% architecture"?
This exhibition consisted of publicizing and spreading 100 buildings built in Madrid by 100 architects from Madrid. It was a luxury to travel throughout the world showing the work on expanding the Bernadette School. We went to Chile, Ecuador, Puerto Rico, Colombia, Turkey, Algeria, Brazil, China, Italy…..I experienced the very same feeling with the exhibition " JÓVENES ARQUITECTOS ( JAE )". We travelled to New York, Chicago, Washington, Canada, Rome, Paris, Stockholm, Brussels… A real treat!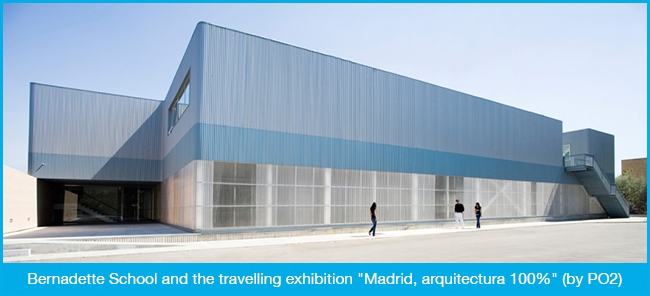 What is your opinion on the role played by women regarding architecture, which has traditionally been a man´s world?
I see no difference concerning professional practice. However, I must point out that women receive less acknowledgements, recognition, prizes or outreach than men. Nevertheless, this situation is slowly changing. I was invited to attend the Bienal de Arquitectura in Venice in 2006 which is the most important showcase in the world. That year, Spain dedicated it to WOMEN. It should not be like this. Women´s work should be acknowledged for its worth, regardless of the fact that it has been carried out by a man or a woman.
Do you think that women architects are being more and more acknowledged?
Yes, I believe so. Each day more initiatives are taking place in order to make women more visible, such as participation in discussion groups, in conferences… At present, there are between 60% and 70% of women in Schools of Architecture. I can ascertain this fact because I am a professor of Architectural Projects at the University of Alcalá de Henares. This semester there were only 5 young men in my class! We can deduce from this that women are conquering territory.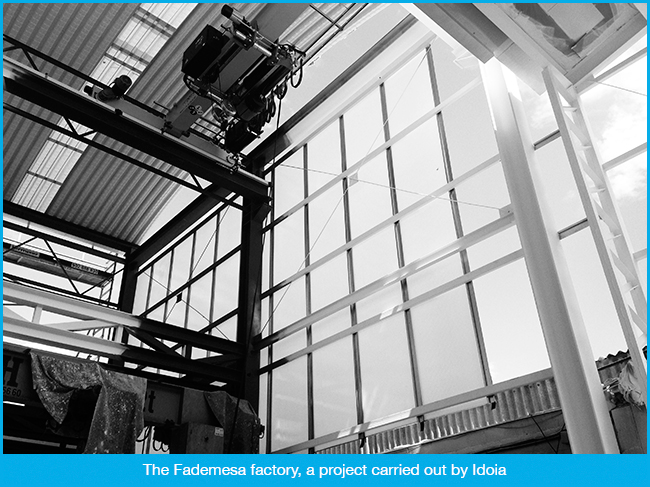 Who do you consider are renowned architectural experts, being either male or female?
I will talk about female arquitects and I want to highlight Kazuyo Sehima, Anne Lacaton, Lina Bobardi, Carmen Pinos, María Langarita, Fuensanta Nieto, Blanca Lleó, Beatriz Colomina… There are many excellent architects, but this time I will stick to the ladies!
In our blog, we have recently written about your awesome project of a penthouse in barrio de chamberi. What can you tell us about it?
I consider myself very fortunate to have been able to work in such a special space which has spectacular views of Madrid. I conserved the great work of the architect Luciano Diez Canedo which was done 50 years ago. All this, made my project much more difficult as I had a great responsibility in order to come out with flying colours.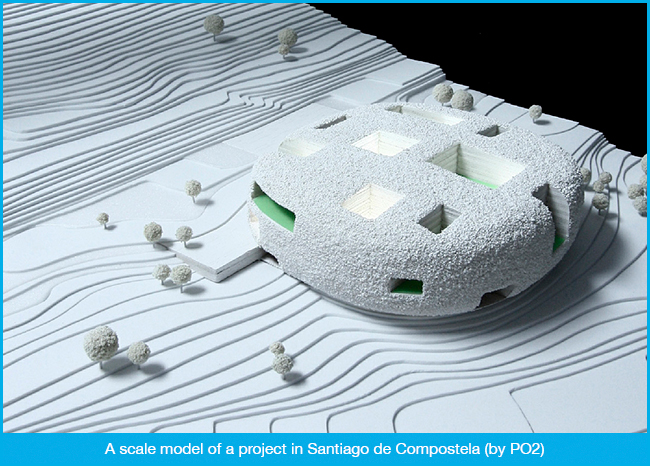 You have received prizes in many national and international design competitions. Are you especially fond of one of these prizes?
I recall that I was deeply stirred and excited when I received my first prize. I remember when I was only 27 years old, that my colleagues and I entered for a contest and we won it, even though it was not small in size: it was an auditorium in Santiago de Compostela in  Galicia with a built surface of 12.000 square metres. We all thought it was an incredible and unique situation. Moreover, we also won the second contest which was a sports centre in Santander. After that, it became more difficult to win contests. I have very fond memories of the first prize, the first exhibition, the first cover page of a publication and the first conference.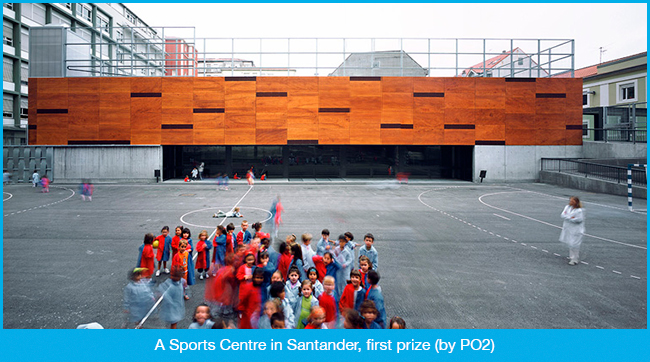 Apart from having won many prizes, which has been your favourite project?
My favourite project is an enormous building located in Vicalvaro with a built surface of 12.000 square metres. It is a centre which provides occupational therapy (Special Employment Centre and Day Centre for the Intellectually Disabled). This project did not receive a prize, although it is included in the guide of emblematic buildings on the outskirts of Madrid, which is published by the Architect´s Association. However, the greatest prize for me was to have been able to construct a building which has improved the working space of more than 400 people. They were so grateful that they even told us that we had built a palace for them! The best prize of all is the gratitude of the people who live, work and spend many hours in a space designed by you. All this, makes them feel better, more productive and much happier. It is difficult for me to describe my feelings… The ones I experience when I have a good client.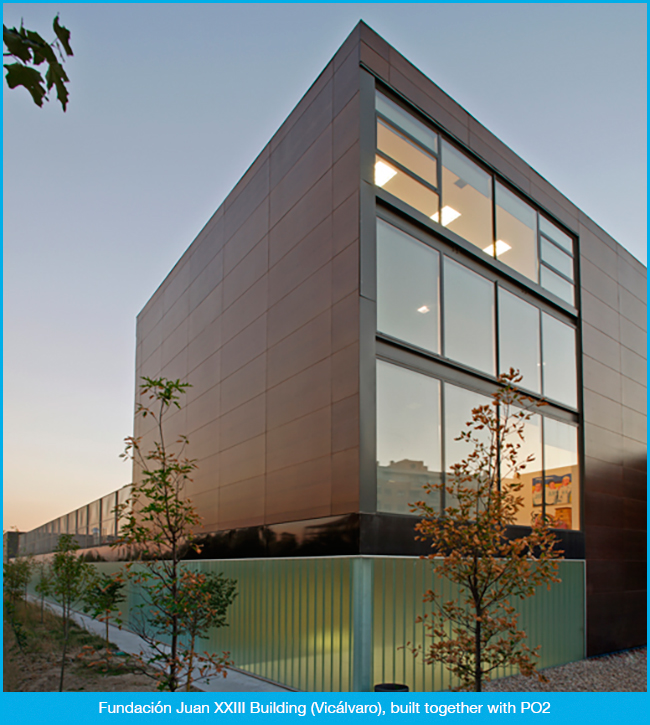 Which are your plans for the future? Do you have a project in mind?
We always have projects, although lately they are smaller than before. However, they are just as beautiful even if they do not have a built surface of 10.000 square metres. Currently, I am restoring premises dedicated to personal training. We have nearly finished it and I think it will turn out wonderfully. I am also looking forward to carrying out a project of a coworking space for artists. This will be located in enormous and attractive warehouses. And last but not least, I have to finish my doctoral thesis. So, as you can see I have plenty of things to do!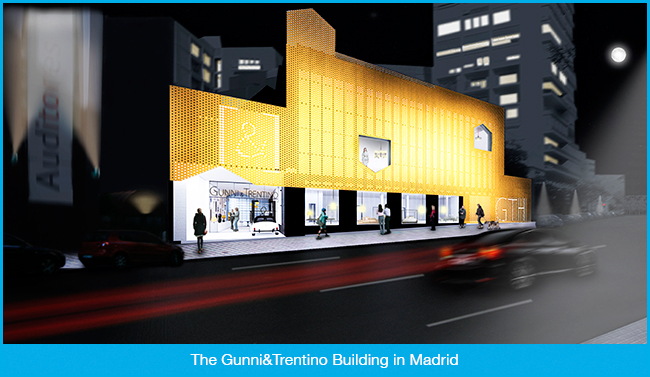 Idoia, it has been a pleasure to talk to you. Thank you very much for coming to the blog of Estate One.