Throughout more than a hundred years, trams were part of the usual scenery in Madrid and the city would never have been the same without this means of transport. Who has not seen a tram in a photograph of the old Madrid? Indeed, decades ago, this city would never have been conceived without its tram network. These trams were always crowded with passengers making it very difficult to find a seat which was a match only for the most courageous.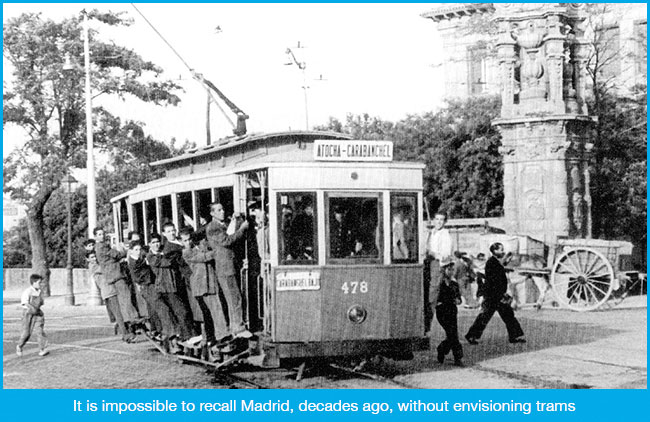 In the last quarter of the XIX century, the tram system was set up in the capital of Spain. There are some quaint facts about how this means of transport started. Did you know that the first tram carriages were pulled by mules? And that the inauguration of trams in Madrid was held in a well-known restaurant? Today, we pay tribute to the now disappeared trams which will forever remain in our memory. That is, unless we regard the light metro as a tram. In our section A Walk in the Past, we will take a ride on a tram. Previously, we wrote about Calle Toledo, do you want to get on a tram with us?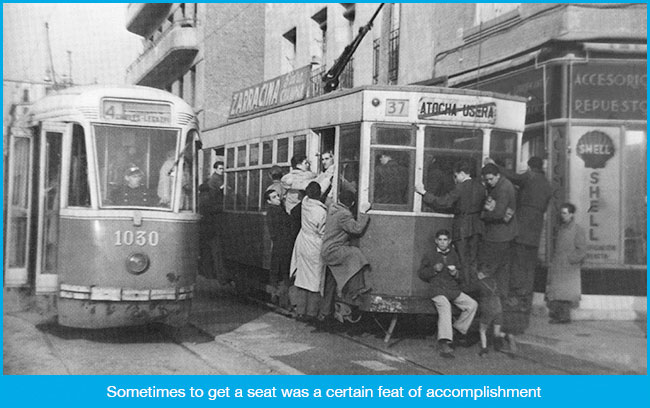 THE BIRTH OF THE TRAM
In 1871, the tram in Madrid was inaugurated. This special event was held in Lhardy Restaurant which is still one of the oldest and most emblematic in Madrid. As we have already said, at the beginning the trams were pulled by mules. The first line in Madrid linked Calle Serrano to Barrio de las Pozas which was located around Calle Princesa and that does not exist at present.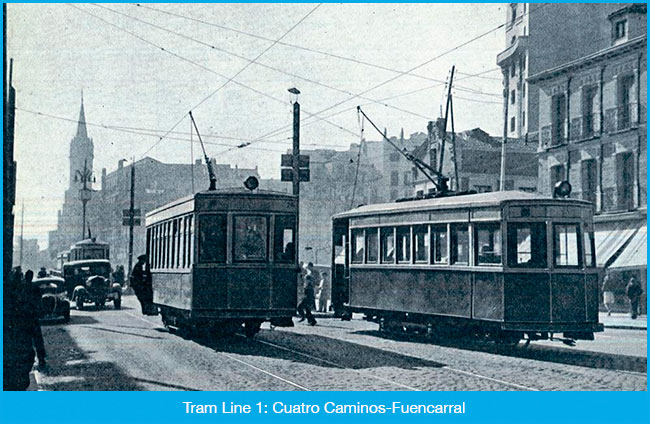 The first tram lines in Madrid only linked wealthy neighbourhoods. As a result, we must admit that at first, trams were not within everybody´s reach.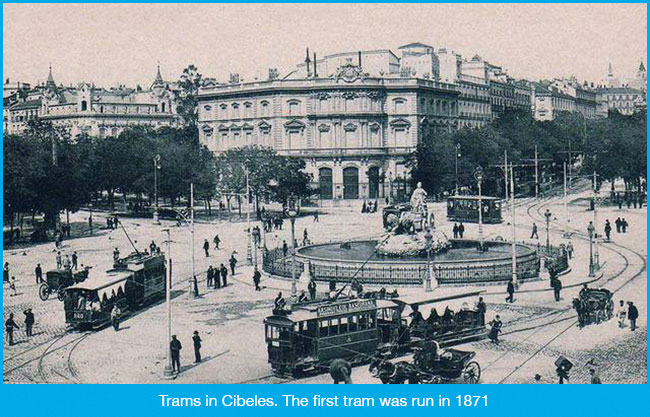 In fact, at that time they were controlled by private companies instead of by municipal corporations. This meant that Madrileños had misgivings about this means of transport. In 1879, trams worked with steam and linked the neighbourhood of Leganés. At last, in 1899, electric trams were installed which modernized the system considerably.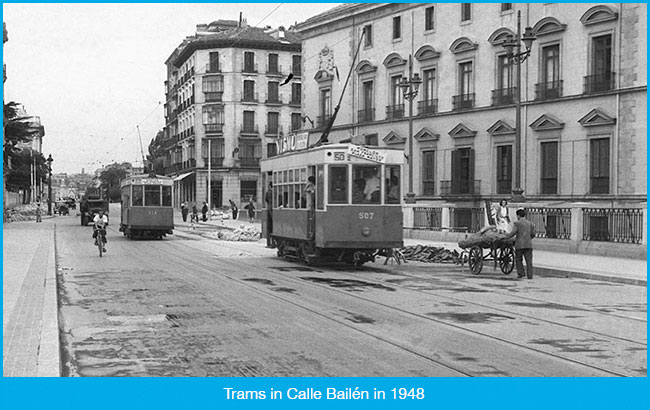 MADRILEÑOS GOING BY TRAMS, COLLOQUIALLY CALLED ` CANGREJOS´
In 1920, five of the six companies which controlled the trams in Madrid joined together to create the Sociedad Madrileña de Tranvías. This marked a turning point in the city, especially when thirteen years later nearly all the tram service started to be run by the city council.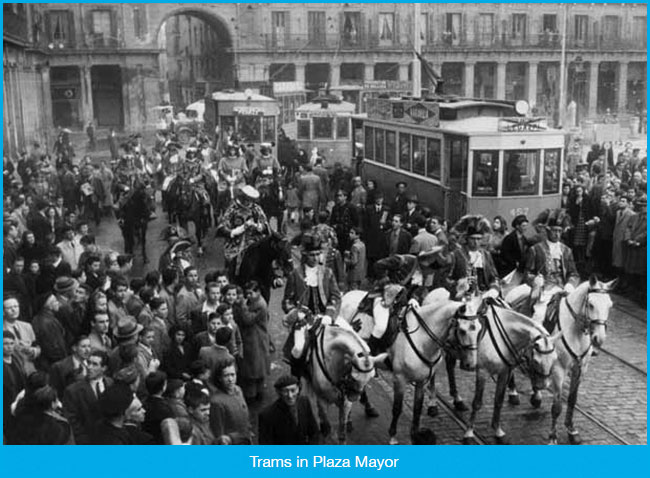 That same year, the first bus lines in Madrid started. This is a very important issue because as time went by, these buses would definitely substitute the trams. In the 30´s, there was still only one private tram company left which provided transport in Ciudad Lineal. In 1951, every single tram company became municipal and they were all part of EMT (Empresa Municipal de Transportes).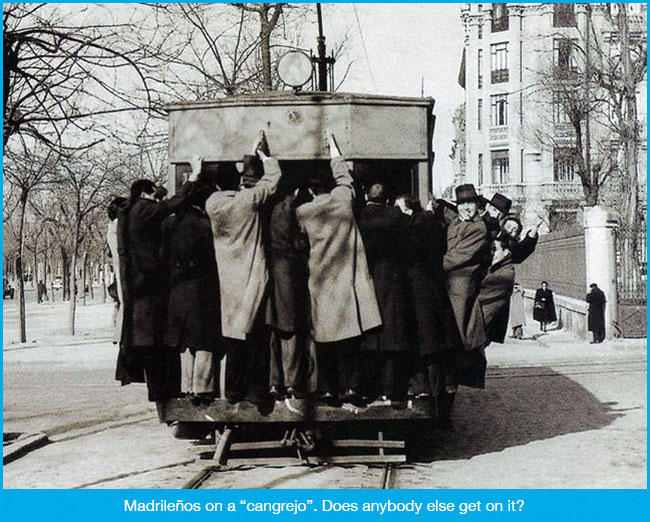 As trams were crimson colored, like crabs, the Madrileños called them `cangrejos´. These trams were used till 1972 with 4 lines and around 60 trams in the last section. Nowadays, we can regard the light metro as a modern tram even though it has a ceremonial role.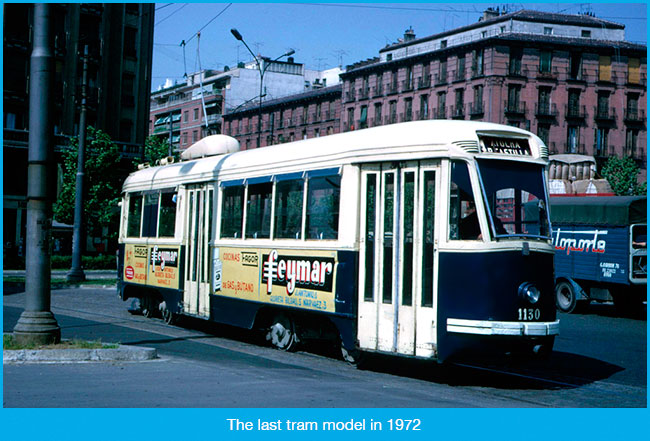 DID YOU KNOW THAT…?
The Spanish expression "ser mas chulo que un ocho" in English translated "to be as bold as brass", stems from tram number 8 which linked Puerta del Sol and Pradera de San Isidro. In the feast day of the patron saint of Madrid, San Isidro, this tram burst with people dressed up as "chulapos" and "chulapas", hence the name.
Pictures: Madrid Antiguo