A penthouse is the most desired property for an investor. However, it is not an easy task to find one in a large city. We have often heard people say `my dream is to have a penthouse´. This is so because having a home with a terrace is an enormous advantage. Some time ago, we wrote an article about the great possibilities that a house with a terrace offers. We pointed out that not only does it have a spatial dimension as it enlarges the house considerably, but it is also attractive and very decorative. We can define a penthouse as the summum of terraces because it is located on the top floor of a building and thus, the views are superb. Clients are well aware of this and so, year after year, they demand this type of property. In order to get an idea of why penthouses are so much in demand, we only have to look at the prices in cities like Madrid or Barcelona. Sometimes, the investor is willing to pay up to 50% more than for a normal property.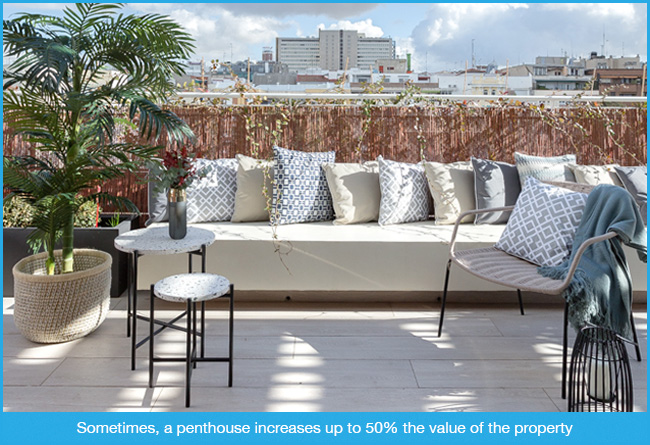 THE PROS AND CONS OF A PENTHOUSE

Concerning the disadvantages of a penthouse, the first thing that comes to mind is the price. As we all know, a penthouse is considerably more expensive than any other property in the same building. In addition, if the penthouse is located in one of the most demanded streets in Madrid or Barcelona, then the price rises exponentially with regard to other properties in the same area. Another disadvantage is the limited offer. In highly demanded cities and areas looking for a penthouse is like finding a needle in a haystack. Therefore, we recommend using the help of a good real estate agency like, for instance, Estate One.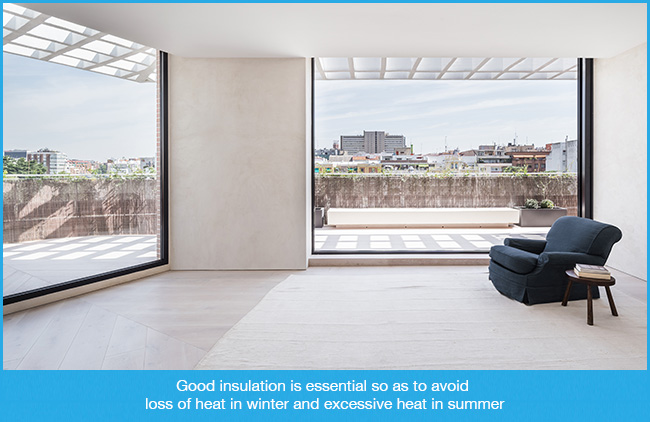 Lastly, another disadvantage is its exposure to external agents as it is located on the last floor of the building. This is why it is important to have the very best insulation so that it is not too cold in winter nor too hot in summer. But why does everyone want a penthouse? This is because even though it has the disadvantages we have just mentioned, the advantages are much greater. The main advantage is that the price of a penthouse will never devalue. Penthouses are currently very much in demand and they will always be. Secondly, the views are unbeatable and they get a lot of light , more than  any other type of property. Also, there is much less noise from the street or even from the neighbours. Lastly, we can enjoy a different space and use it as a chill out, decorating it to our taste. In some cases, we may even be able to have an exclusive swimming pool.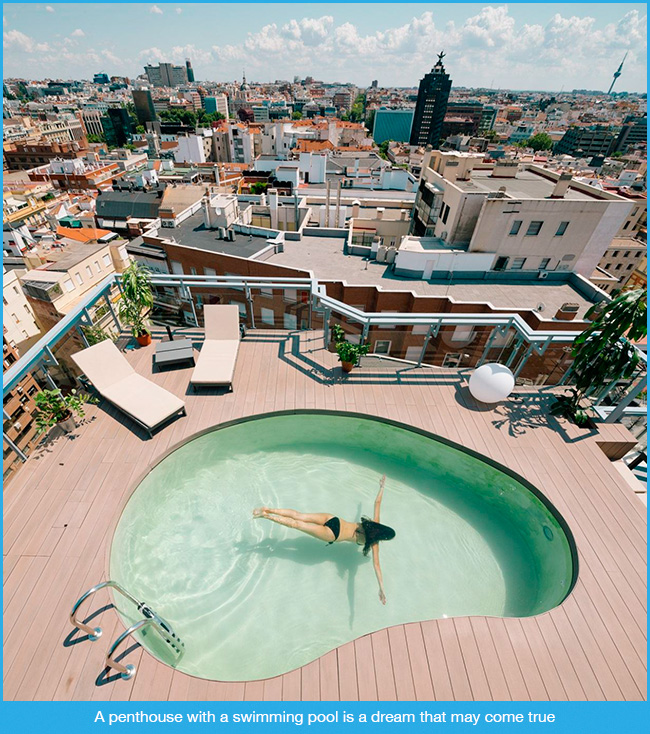 HOW MUCH DOES A TOP-LEVEL PENTHOUSE COST?

The price of a top-level penthouse depends on the city and the area. To get an idea, we can say that in the best areas of Madrid, the price can be above 12.000€ per square metre. It is estimated that in the most demanded areas of Barcelona, a newly built penthouse can fetch 10.000€ per square metre. This shows that Madrid is the most expensive place to buy a high-level penthouse.
Nevertheless, the main difficulty that a purchaser faces, is the limited offer. It is estimated that only 2% of real estate advertisements in Madrid offer a penthouse. Very often they do not even have to be put up for sale as there is great demand for this product. This is why we recommend getting in touch with Estate One, when looking for a penthouse in the most demanded areas of Madrid.
Picture 01 and 02: Arquitectos OOAA
Picture 03: Idoia Otegui