A terrace is regarded as a very valuable space in a house because it enables us to have direct contact with the outside allowing us take a breath of fresh air, as well as  helping us to take our minds off things. When we go out on the terrace for some instants, we can feel the fresh air and observe the world, and both instances can be an ideal outlet. Nevertheless, what other things does a terrace offer us? Apart from allowing us to enjoy the good weather when it is favourable, a terrace enlarges the space of a house if we manage to use it well, and it can even help us save energy.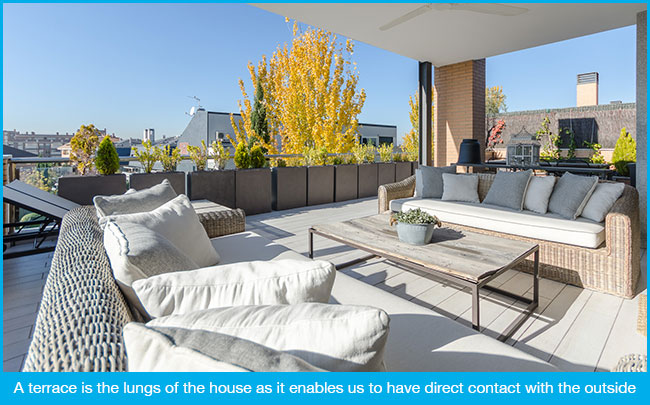 The most important thing is to know how to make the most of it and to arrange it in the best possible way. Sometimes, terraces are not fully utilised as their possibilities are not taken into account. Some tenants, conceive the terrace only as a place to feel the fresh air without even thinking that it is a very important space of a house. The key thing is to know how to adapt this space to our taste and to our way of living, just as we do with other corners of the house. We can think of nothing more pleasant than having a conversation on a terrace or even reading a good book there.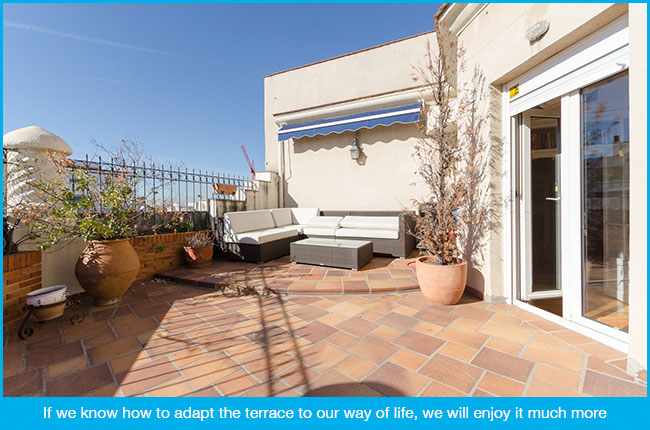 A TERRACE TELLS A LOT ABOUT US
A living-room, a kitchen or a bedroom can reveal a lot about our personality. A terrace can also tell a lot about us in the same way. If we are fortunate and our terrace is of a reasonable size, then we will enjoy it much more. However, it is important that there we feel as comfortable as we do in other parts of the house.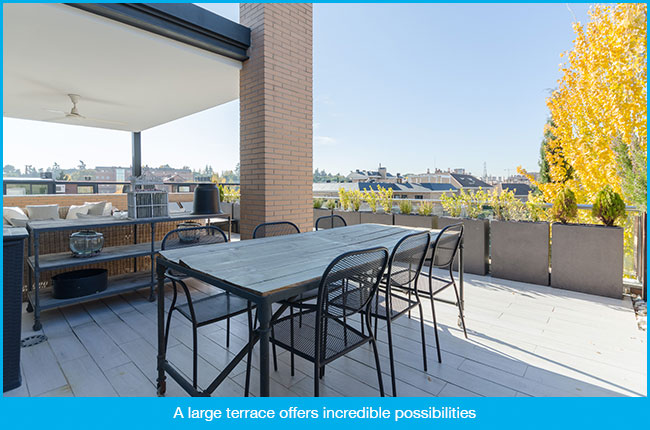 A terrace offers us the opportunity to show a little bit more about ourselves as not only our neighbours but also passers-by will see it and thus, appreciate our taste. Which plants do we like best? Are we fond of flowers? Which colours would we like to stand out in our balcony? We can put some nice flowerpots or even a well-kept small garden, both of which will brighten up the terrace and draw the attention from outside. We have often stopped in the street only to admire the beauty of a balcony.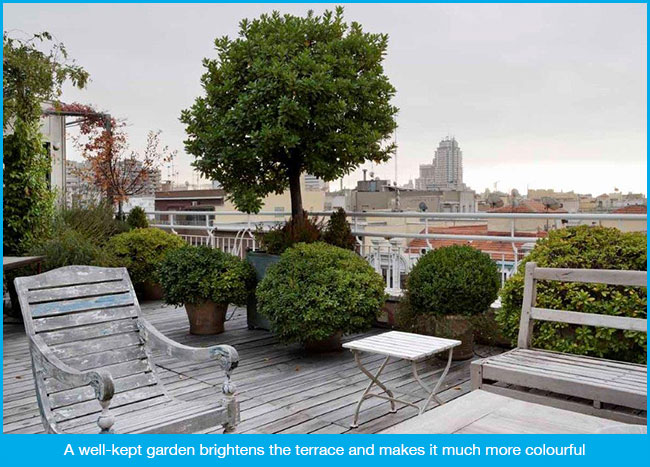 On the other hand, if we have outdoor terrace furniture then we can also display our taste in decoration. What kind of cushions captivate us? What type of chairs and tables? If we know how to place them well and light them up in a soft and pleasant way, then we will be much more attracted and encouraged to spend there as much time as possible. It is essential to choose well the material with which the furniture is made as it will be exposed to the inclemency of the weather. This is why we must choose furniture made of durable materials. Aluminium, iron, pine-wood or teak wood are excellent choices.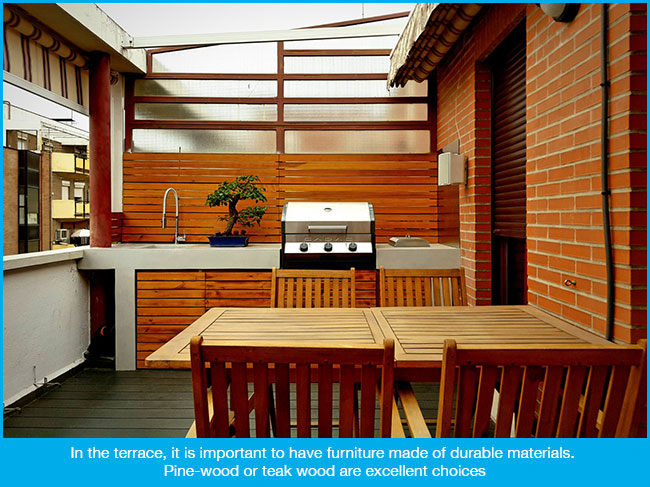 A TERRACE IS SUSTAINABLE
In this blog, some time ago, we wrote about the importance of sustainability in the real estate sector. In that article, we stated that there is more and more awareness regarding this issue: real estate property must respect the environment. Have you thought about the fact that the terrace is the most sustainable space in our house and can therefore be used to reduce our energy consumption? If your terrace is in good condition with plants that cool the atmosphere and you also have adequate furniture, then the house temperature will drop in days of real heat.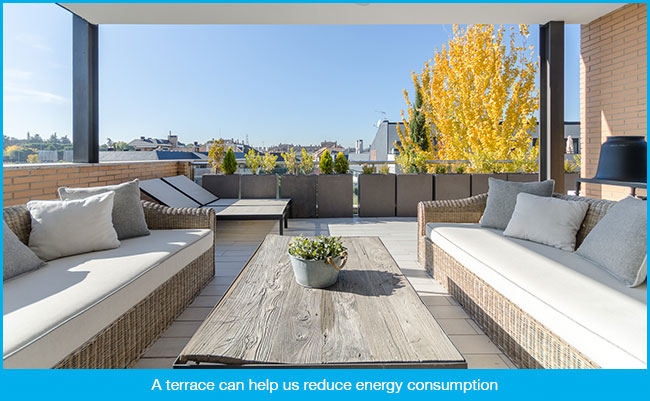 Did you know that good quality awnings can reduce the temperature 10 degrees? This has a direct effect upon the use of air conditioning as it can be minimized, having a positive aspect regarding the bill. On the other hand, it will also help us to have a more responsible energy efficient approach.