Calle Mayor is one of the most popular streets in Madrid and probably one of the oldest in the city. As a matter of fact, there are documents which show that it was one of the first streets in existence in Villa de Madrid. It is considered that at the time of the Austrians this street was the most important one in Madrid and hence its name of Calle Mayor.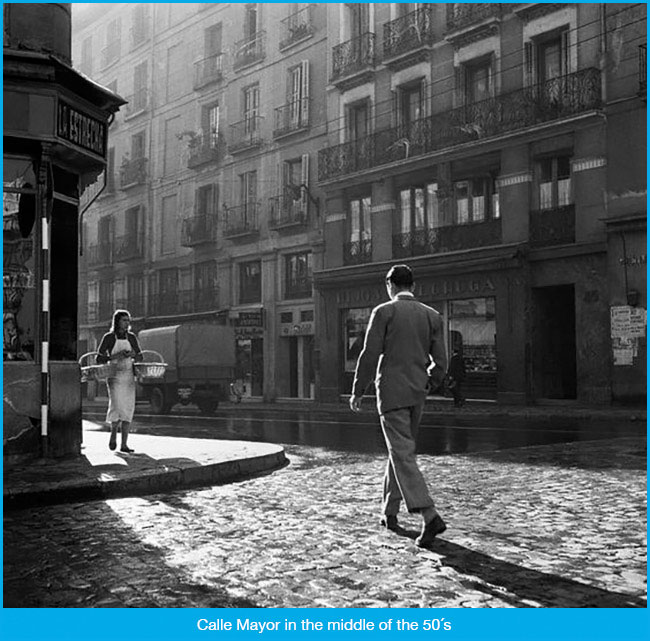 It ended in Puerta del Sol and that is why it became a very busy street as well as an icon of the Madrid urban area. Calle Mayor has always been a benchmark of Madrid and the proof of this is that its popularity has never diminished throughout the years. Can anybody imagine taking a walk along the centre of Madrid without visiting it? We would like to point out that its history has some curiosities which not everybody knows about. Today we will see some of them and we will also recall what Calle Mayor was like decades ago. Our previous article regarding the past of Madrid was about the time when trams ran in the city.
A VERY ROYAL STREET
At present, Calle Mayor links Puerta del Sol to Cuesta de la Vega. However years ago, its length was much shorter due to the fact that some stretches of the street had other names such as Calle Almudena la Chica, Platerías and Puerta de Guadalajara.
All of these have now become Calle Mayor. We want to highlight that this street has preserved part of its essence but it has also moved with the times. In the old days commercial establishments grouped together depending on their businesses. For instance, the jewellers, the embroiderers as well as shops which sold bed and table linen. Nowadays, Calle Mayor still has a shopping area which is extremely popular among the Madrileños.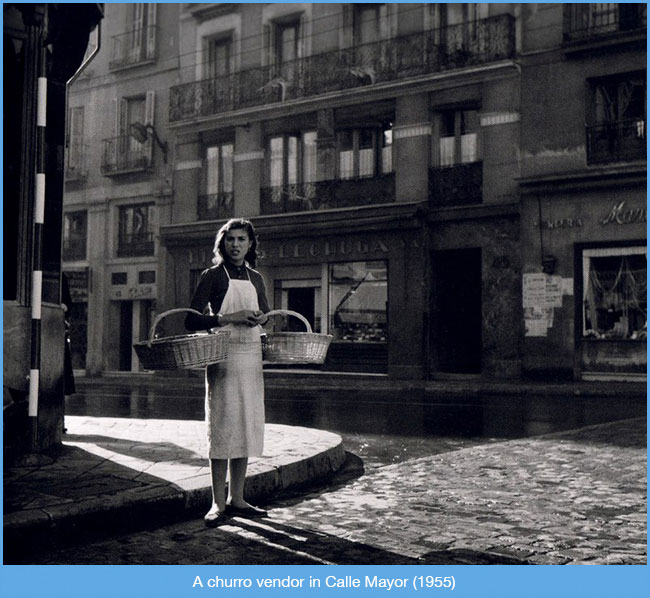 Some centuries ago, the royal family of the Austrians as well as the Bourbons passed along this street whenever they left the Real Alcázar de Madrid, a building which does not exist at present. In the XVI century, the Mentidero de las Gradas de San Felipe was very popular and part of its rows of seats were placed in Calle Mayor. Currently, in number 1, Calle Mayor we can see "Casas del Cordero" which is famous for being the first modern residential construction in Madrid.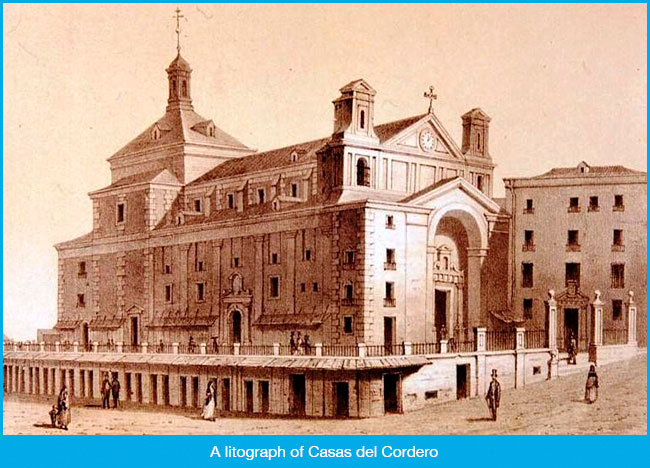 It was built in 1845 by Santiago Alonso Cordero, hence its name. Just opposite, the very famous and well-known baker´s shop , "La Mallorquina", is located. This patisserie opened in 1894. In number 79, Calle Mayor you can visit "Palacio de Uceda", which was built in the XVIII century.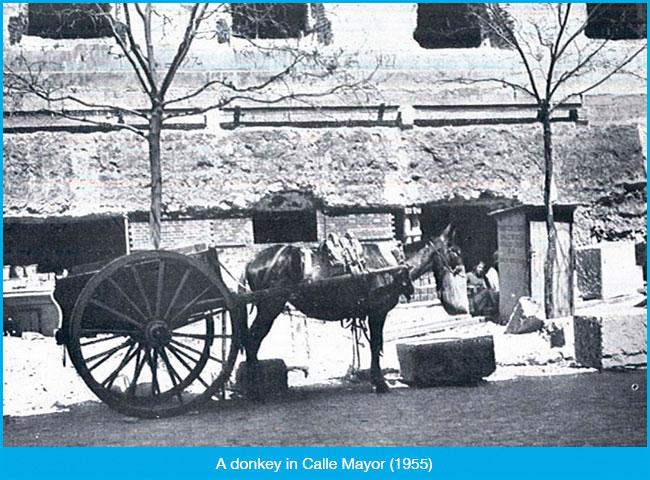 THE LITERARY AND ARTISTIC WORLD ARE CONNECTED TO CALLE MAYOR
The literary world is also very much linked to Calle Mayor. This is due to the fact that important literary figures such as Lope de Vega and Calderón de la Barca were always connected to it.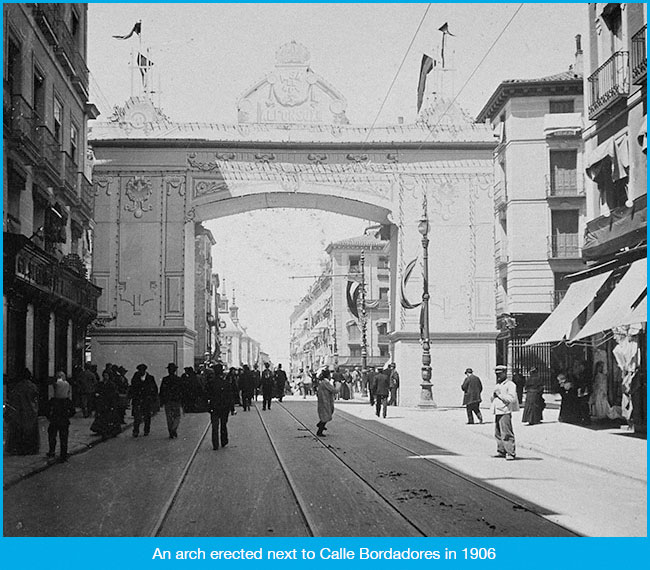 Lope de Vega was born in 1562 at number 50, Calle Mayor. Calderón de la Barca spent his last years until his death in 1681 at number 61, Calle Mayor which at that time was called Platerías.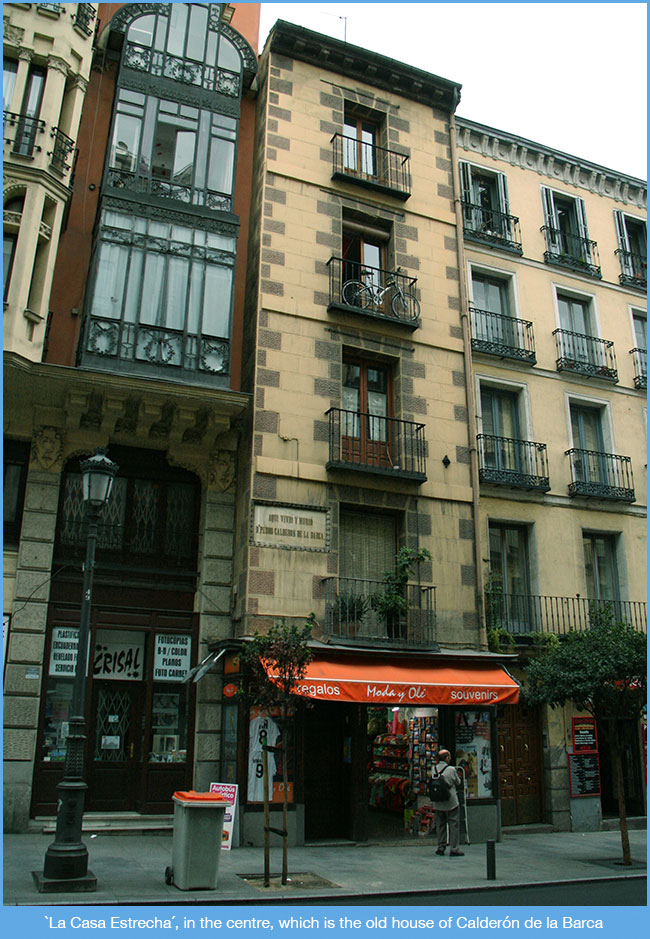 The house where Calderón de la Barca lived was known as "La Casa Estrecha" because of its narrow width. It still exists noways and Mariano José de Larra mentioned this house in one of his articles saying that Calderón de la Barca wrote his best literary production whilst he lived there.
DID YOU KNOW THAT…?
The first lift installed in the city of Madrid was in number 122, Calle Mayor. It was put up in 1874 in the residence of senator Carlos Prats.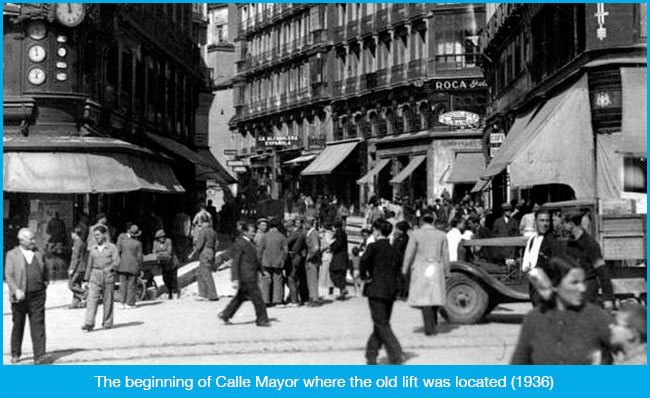 In those days, only rich people could afford to buy a ground floor in order to avoid climbing the stairs. With the emergence of the lift, everything changed.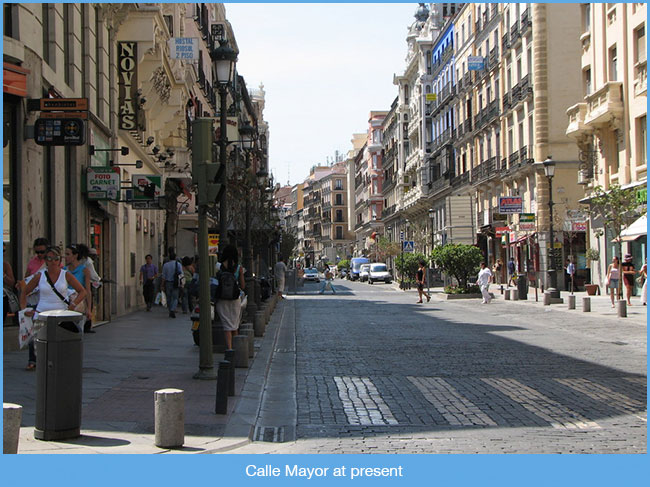 Pictures 01, 02, 03 and 05: Madrid Antiguo
Picture 06: Libro Memoria Visual de Madrid
Picture 07: Tamorian
Picture 09: Jaime de la Fuente