The price of housing in Spain is expected to drop in 2020 and subsequently, it will gradually recover from 2021 until 2022. This is the summary we can make, based on the forecast of most real estate analysts, regarding the COVID-19 health crisis related to housing in Spain. In particular, there are references to a 6% drop in housing prices in 2020, even though it will be a little less in the great cities. As we have already said, there will be a further recovery during the next two years. Nevertheless, there are more pessimistic reports that estimate a drop of 8%, 10% and even up to 17%. Be that as it may, we will have to wait in order to confirm it. The health crisis that the world is living through, has struck with hardness in every sector,and real estate is not an exception. In Spain, we have seen how many deals have been paralyzed since the irruption of COVID-19. However, this month of May, the real estate market has started, little by little, to move again. Experts agree that both unemployment and the economic crisis caused by coronavirus will serve to correct prices, especially regarding second-hand housing. It is expected that at the end of the financial year, prices will fall. Nevertheless, most analysts are optimistic over the medium term as they believe there will be a complete recovery in two years´ time, when the 2022 financial year ends. However,there are also more pessimistic  forecasts that delay the date until 2025 or even later. Nonetheless, most of them predict a much quicker recovery.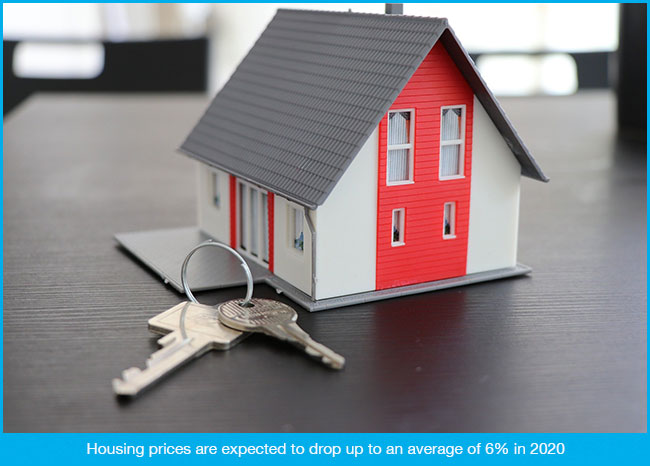 THE GREAT CITIES WILL SUFFER LESS
As we have already mentioned, the great cities will suffer less the drop of prices in real estate deals. Generally speaking, the cities with great demand but shortage of real estate offer, will be the ones to register less this drop, being the case of Madrid, Barcelona, San Sebastian or Vitoria. Regarding these cities, the forecast of experts shows that the drop will be between 3% and 5%. Whereas, in cities with less demand, especially those located in the interior, the fall will be more than 6%. According to most analysts, these facts and figures will influence the overall average. In any case, we want to stress that not every report shows a 6% drop. However, some analysts, not the majority, are much more pessimistic. We are living through times that we have never experienced before, therefore, it is no wonder that discordance exists regarding the forecast. Practically all analysts agree on the fact that luxury real estate will hardly suffer from the coronavirus effect, and their price will not change significantly.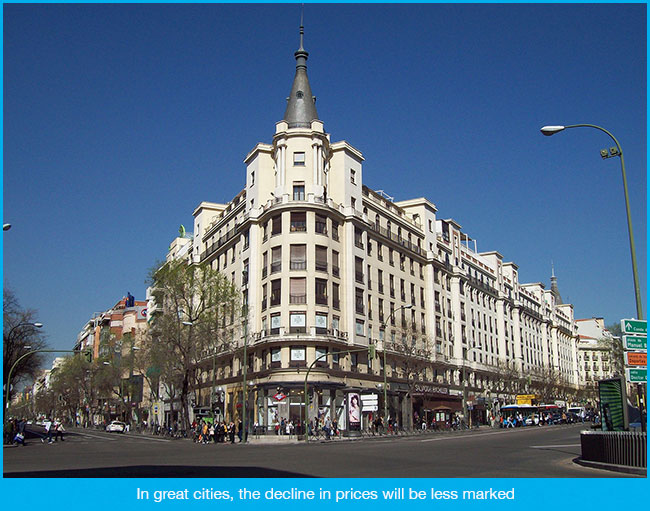 PROPERTY STRENGTHENED BY THIS CRISIS
Nonetheless, some properties, due to their unique characteristics, have come out stronger from this health crisis, to the point that they have even increased in price. This is already happening in houses with a terrace and a garden, as we said in this blog. The demand for these properties has grown exponentially during these last weeks, as well as the demand for houses located in well connected outlying districts. Currently, investors who seek property in large cities, prefer to purchase a larger house and gain space, provided that it has good transport connections, rather than buying a small flat in the centre of the city. As is always happening in life, even the most unfavourable situations have two sides to every coin. In Estate One, we will be very much on the lookout for the evolution of our real estate system in these exceptional times. We really hope that everything will go back into proper balance as soon as possible