The floor determines the decoration of a room and therefore, the choice we make is a key element to create the atmosphere we want. What style do we like for a bedroom, a kitchen or a living-room? Very often, when we ask ourselves about the kind of decoration we want, we only think about the layout, the furniture or the ornaments without ever bearing in mind the flooring. This is a huge mistake because the first thing that conditions the aspect of a space is the flooring. That is to say, when planning the decoration of a space, it should start with the choice of the floor. Nowadays, there are plenty of materials that enable us to place different kinds of floors nearly everywhere. In this article, we have chosen seven which are, perhaps, the most representative and we will also analyse their characteristics and the type of atmosphere they can create. In a previous article in this blog, we wrote about the contribution of books to the decoration of a room. Today, we lower our gaze to pay attention to the floor of our house.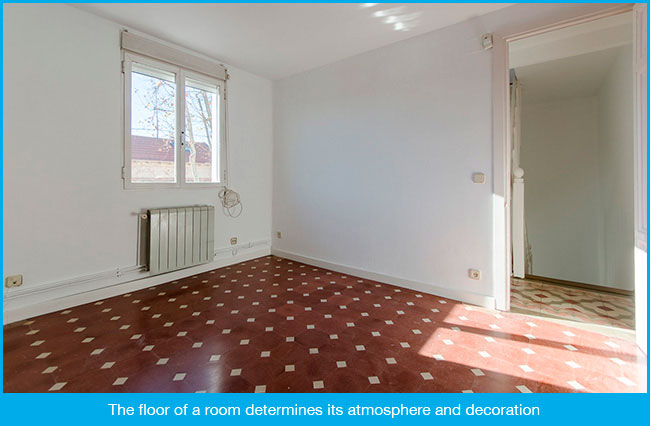 WOODEN FLOORING
A floor made of good quality wood is a very safe decision because it is not only elegant and ageless but it also gives the house a touch of warmth and cosiness. The famous expression `feeling at home´ is easier to create with wooden flooring. One the characteristics we like most about wooden floors is its versatility and duration. Wooden flooring does not go out of fashion and this is the reason why it will always look wonderful not only in a classic atmosphere but also in an avant-garde, Nordic or Mediterranean style as well as in practically every type of decoration. Perhaps, the only disadvantage wooden flooring has, is that it can be damaged more than others, for instance by children, and it requires special care. However, in spite of this drawback, wooden flooring is always a safe decision.
LAMINATE FLOORING
Nowadays, laminate flooring is of excellent finish and quality and it is very similar to wooden flooring even though it is not the same. The laminate flooring that exists at present has nothing to do with the one of decades ago which gave the sensation of stepping on plastic. Today, laminate flooring is designed to make it look like real wood and sometimes it is difficult to tell the difference between them. Because of its easy and adaptable installation as well as its durability, many families choose this option, especially in the children´s room because here it is damaged more.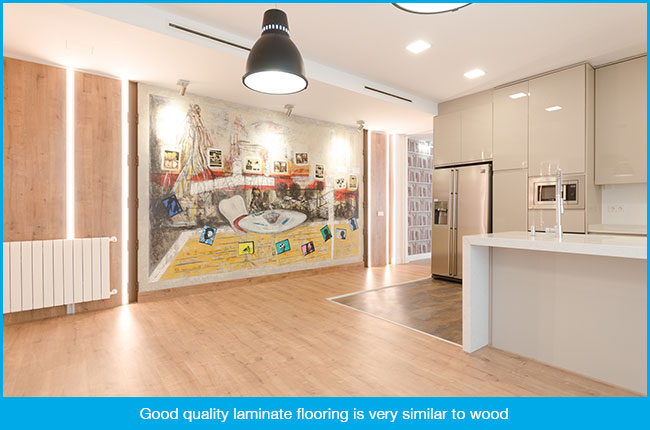 CERAMIC FLOORING
Ceramic floors have an extensive range of possibilities and this fact gives rise to a real odyssey when it comes to selecting an option. There are innumerable varieties so we should choose the most suitable one depending on the atmosphere we wish to create. Nowadays, the finish and quality of ceramic flooring allows us to combine bright and colourful textures. We must highlight, amongst the wide range of flooring, ceramic floors that imitate wood because if the quality is good then the finish is perfect.
HYDRAULIC FLOORING
There was a time when hydraulic flooring was regarded as old-fashioned and hence, fell into disuse in Spanish homes. But fortunately, fashion is a cyclical phenomenon and nowadays this marvellous material has been recovered. There is nothing more beautiful than a well preserved hydraulic floor. If this possibiliy exists, we recommend recovering it if we like the design and if it is in good condition.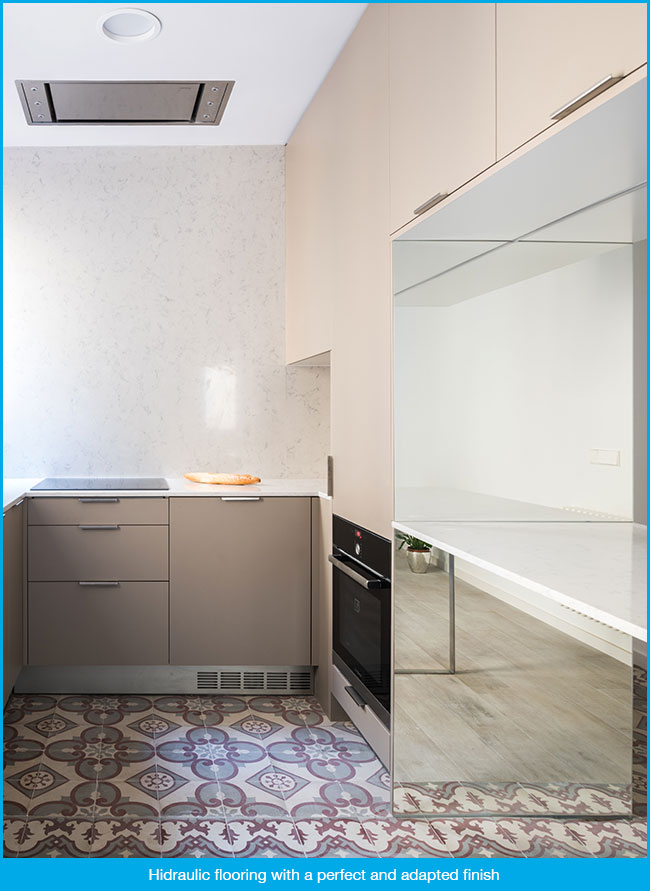 MARBLE FLOORING
Marble is, par excellence, a noble and stunningly beautiful material. A room with marble flooring will stand out with regard to other parts of the house. This touch of quality and distinction is especially achieved in bathrooms, as marble has been, throughout decades, a recurring material in many homes.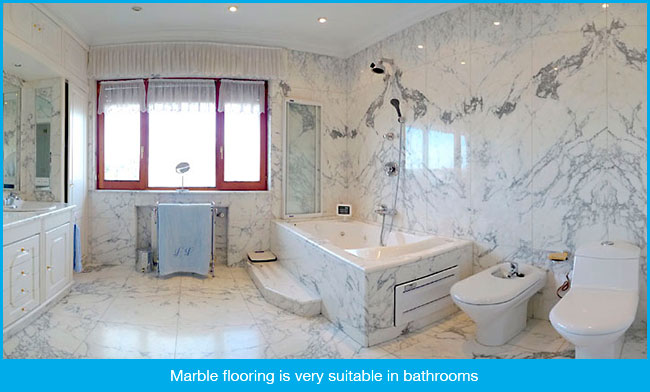 MICROCEMENTO FLOORING
Microcemento flooring is, unquestionably, the market leader in resistant materials. It is very much used in city property as it achieves a sober and modern atmosphere. It can be installed in every room including the kitchen and the bathroom. It also offers different colours.