Platea Madrid is a new concept of gastronomic recreation where the visitor can taste and savour the very best dishes cooked by famous and prestigious chefs. It is an exclusive space in the centre of Madrid that offers the most select food and snacks at affordable prices. We are therefore not talking about an elitist place as it seeks to attract people from different social strata through a modern and present-day gastronomic offer which is varied and within reach.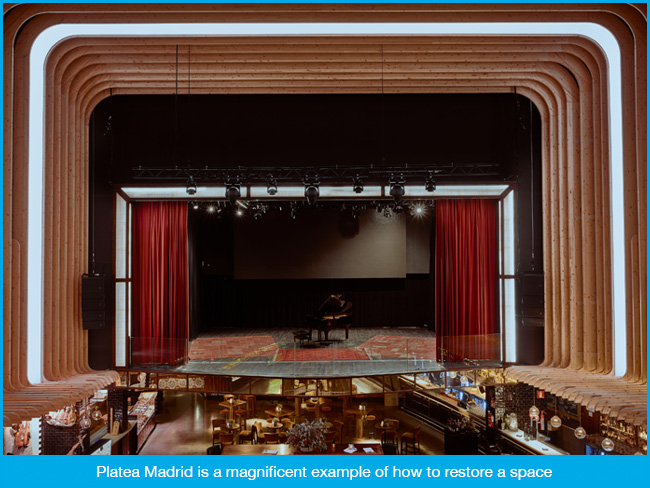 Platea Madrid is a meeting point, located in the very centre of Barrio de Salamanca, and it is not only for workers who need to have a quick lunch in order to rush back to work, but also for families who wish to have something to eat in a pleasant atmosphere. It is also an attractive place for groups of friends who want to have "tapas" whilst enjoying themselves in a cool and original place. This space has attracted our attention because it is not only appealing but also because it has been restored and has thus added value to the city. Today, we are going to go there. A short time ago, we visited another restored building in Madrid, the Invernadero de la Arganzuela.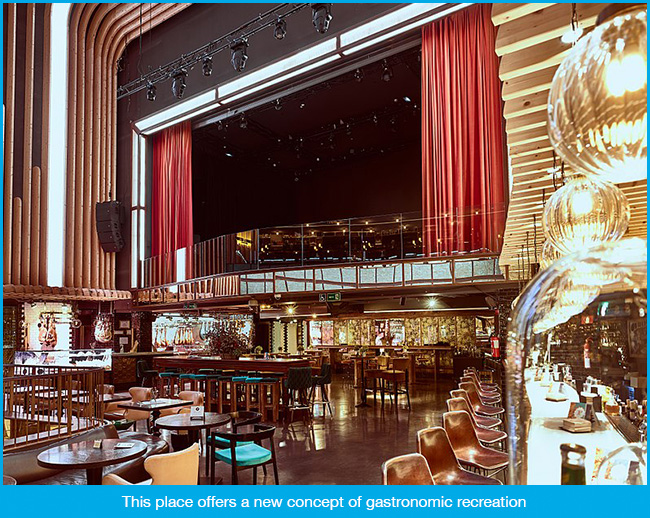 A MEETING-PLACE
Platea Madrid has 6.000 m2 which are laid out in two floors and three boxes, with a capacity of 1.100 people. This place is located in Plaza de Colón in the building that used to be Cine Carlos III, built in 1946 and designed by the architect Luis Gutierrez Soto. At first, this building was an important residential project which was made up of flats, a shopping mall and a cinema that was also a night club.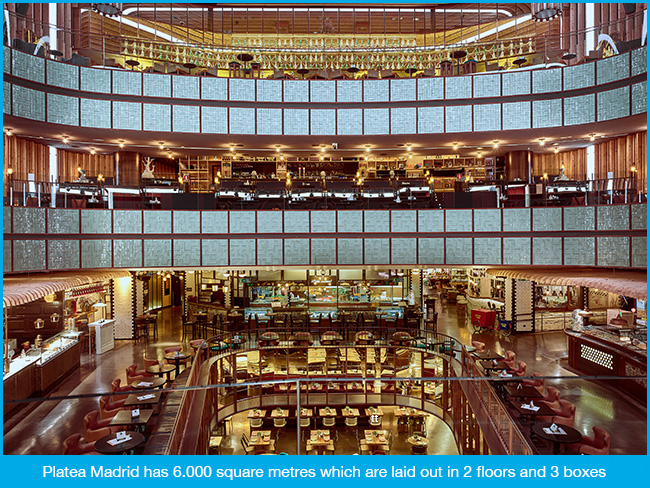 In fact, when we go inside Platea Madrid and we look up, we can see the rounded shape of the mouldings which at the time of the cinema helped to improve acoustics. This building was a good example of the rationalist style. However, it fell into disuse until it finally closed down in 2007. Four years later, in 2011, the rehabilitation works began and they ended in 2014, after three years of hard work. This space preserves its original framework which has been adapted to the new times.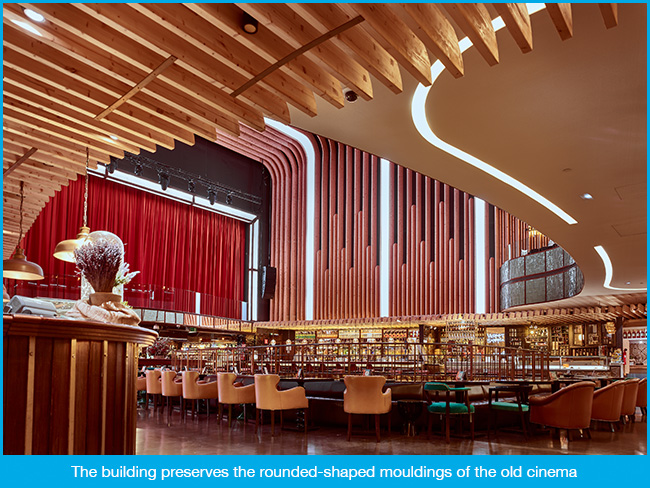 It was a good decision to line the original arches with wood because it creates a warmer atmosphere and at the same time gives it a modern aspect without losing its original essence.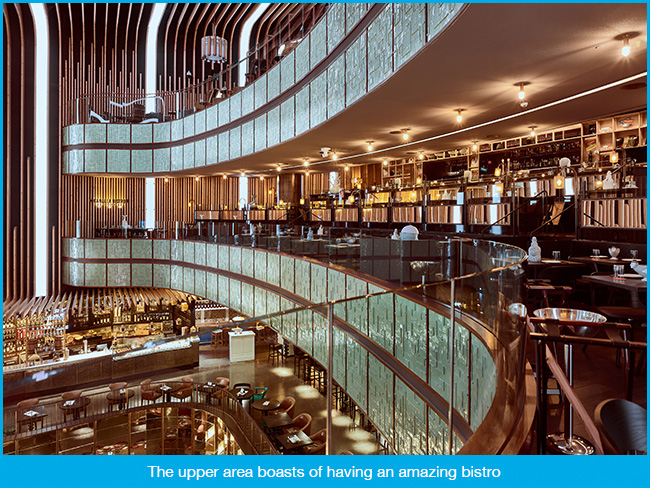 In the upper area there is an important bistro where delicious dishes can be savoured. However, due to its success and turnout, it is indispensable to make a reservation long in advance, especially on weekends. On the same floor there is also a design cocktail bar which overlooks the premises.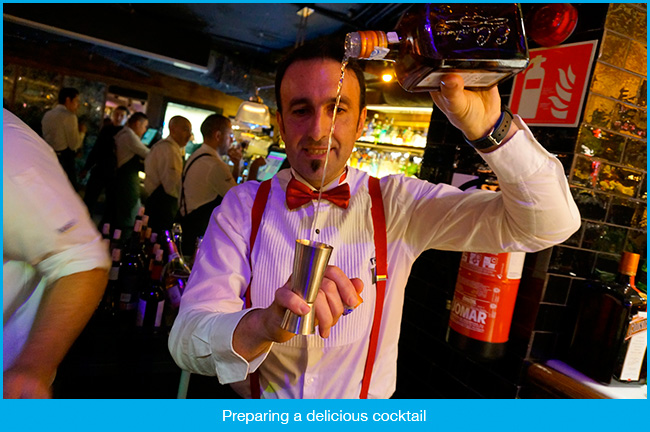 On the ground floor, snacks such as "tapas" are offered as well as croquettes, vegetable tempura, sushi, oysters, squids, scallops and also a great variety of Galician pies. Casserole and stew is also served as well as every kind of baguettes and sandwiches adapted to new times and flavours.
There are more than 20 bars and 6 different spaces and the lay out resembles the street style of the most avant-garde markets. At present, Platea Madrid boasts of having two Michelin stars, having previously had up to six.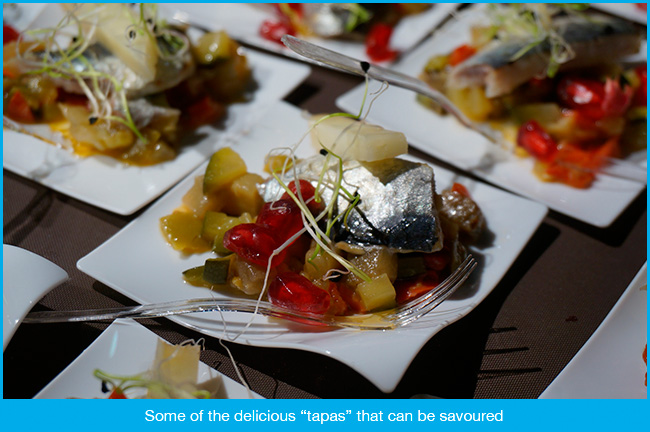 NOT ONLY FOOD
Platea Madrid is not limited to food: the premises also offer live music and DJ performances with a new programme each month.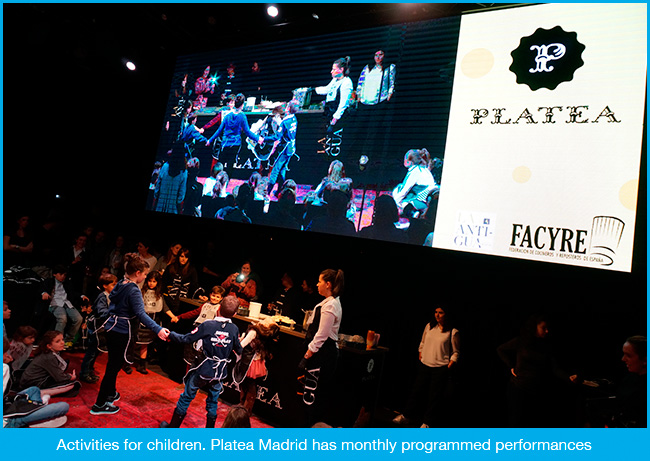 Because of the musical shows and entertainment, Platea Madrid, boasts of having a lively, present-day and constantly evolving space that conveys dynamism with a fresh touch. In this video, you can see a report of the inauguration that took place some years ago.
DID YOU KNOW THAT…?
Platea Madrid has recently joined the Centro de Innovación Gastronómica de la Comunidad de Madrid which is managed by the Instituto Madrileño de Investigación y Desarrollo Rural, Agrario y Alimentario.
Pictures 01, 02, 03, 04, and 05: Platea Madrid
Pictures 06, 07, 08 and 09: Quesería La Antigua de Fuentesaúco