As regards real estate, the most sought-after areas in Madrid are in the districts of Salamanca, Retiro and Centro. We arrived at this conclusion when we looked into the preferences of luxury housing investors in Spain. And what is more, Madrid is the principal referent. Undoubtedly, the luxury property market is one of the most important real estate assets in Spain. As we have just mentioned, Madrid stands out over the rest of the cities in Spain. In addition, Madrid is among the ten chosen destinations, in the world, for high standing property investors. Some time ago, in this blog, we wrote an article about the increase of luxury property in Spain. Furthermore, regarding high standing property, Madrid is the icing on the cake as no other city in Spain can shadow it. The exclusive property buyer demands Madrid, and specifically demands very concrete areas. Let us look at this in detail.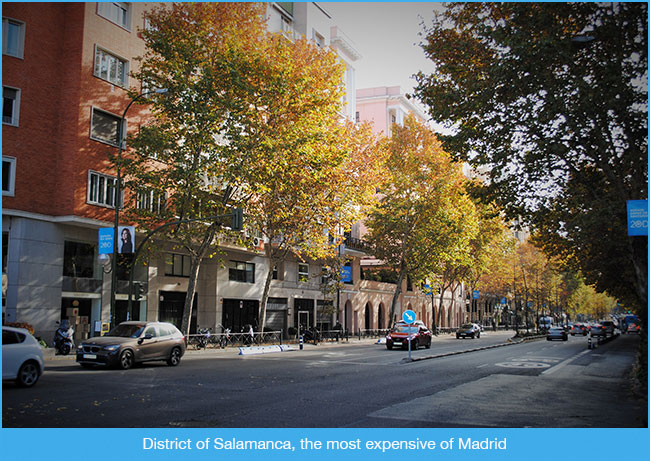 RECOLETOS, THE MOST EXPENSIVE NEIGHBOURHOOD
The area of Salamanca is still, by far, the most expensive district in all Madrid. Property there can fetch up to 6.500 € per square metre. Salamanca is followed by the districts of Centro and Retiro whose properties fetch more or less the same price, around 6.000 € per square metre. These three areas stand out from the rest. However, Chamberí and Chamartín are not far behind as the price per square metre can reach up to 5.500 €. Regarding the area of Chamberí, we must especially highlight Barrio de Almagro, where our office Estate One is located. The districts of Moncloa or Tetuán reach a selling price of up to 5.000 € per square metre and they are both regarded at a second level. They are followed by Latina, San Blas, Moratalaz and so on. In these areas the prices are much lower. As for the neighbourhood of Recoletos, which is the most expensive of all, property there can fetch an average selling price of 7.000 € per square metre, and it can even reach 18.000 € such as the building Lagasca 99, designed by Rafael de la Hoz. Close behind, we must mention the neighbourhood of Jerónimos with an average selling price of 7.000 € per square metre. After, comes Barrio de Salamanca at 6.470 € per square metre, and then Castellana which fetches a selling price of 6.500 € per square metre. Some experts state that tourism has been the cause of this property price increase because many investors want to make a profit of renting and have, in consequence, created a great demand on these properties. In addition, foreign investors have boosted property sales as they regard Madrid a safe and clean city with a wide offer of leisure and restaurants as well as excellent communications. All of these advantages have made the city an appealing place in which to invest on luxury real estate. Furthermore, we must add that the prices are considerably lower than in other European countries. Nevertheless, in 2019, Madrid is expected to exercise some moderation, compared to prior years, regarding housing prices. It is generally believed that the price increase will be between 3% and 5%, making it noticeably lower than in previous years.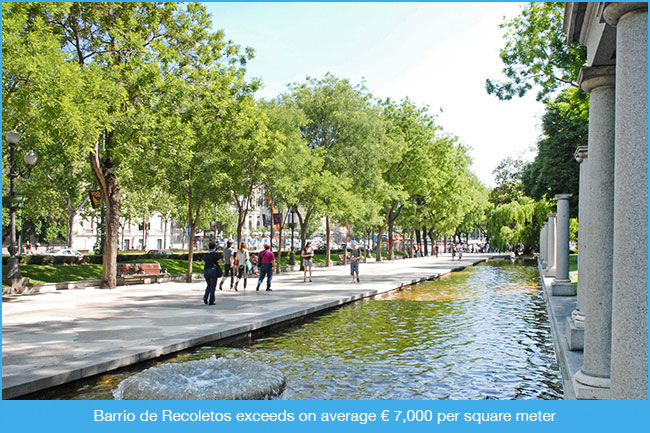 AWAITING THE POLITICAL LANDSCAPE
All the experts share the viewpoint that the current political situation will have an important impact on the development of the real estate market throughout this year.  Undoubtedly, this matter will also have a troubling effect on high standing property. The development of the real estate market depends on how tensions between China and the United States are solved. We must also bear in mind the Brexit issue and the outcome of the Spanish elections. However, most experts believe that the real estate market will reactivate in the second term of 2019. The Mexican buyer and investor is very much taken into account regarding luxury real estate. Some experts state that these purchasers may even take over from the Venezuelans, who are at present, the most important Latin American investors of high standing property in Spain.
Picture 01: Jean Pierre Dalbéra