Real estate reports carried out in 2018, show that housing prices continue to rise. Some weeks ago, we wrote, in this blog, that housing prices had made great strides right from the beginning of 2018. In that article, we said that the Instituto Nacional de Estadística, stated that in Spain in January 2018, there had been an increase of more than 23% with regard to January 2017. This figure reveals that real estate experts had not been mistaken when at the end of last year they had predicted that 2018 would be a good year for Spanish Real Estate. At present, the cost consultant company Tinsa, has provided new facts and figures regarding the price of Spanish housing in the first term of 2018. These facts and figures show an increase of 3,8% in housing prices during this period. After this rise, the average price of housing in Spain during the first term of 2018 is 1.285€ per square metre.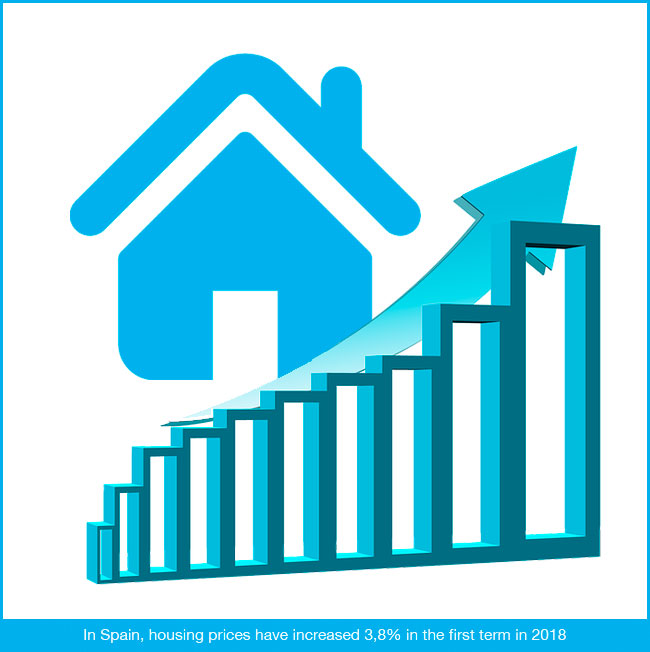 MADRID AND MAJORCA, AT THE HEAD
During these last months, the general tone has been a rise in housing prices. Some time ago, we wrote an article showing that the prices of urban land in Spain are on the rise. We also stated that Madrid had the highest prices and according to the Tinsa report, this fact still prevails. Regarding housing, Madrid and Majorca are at the head. If we look at housing price increase during the first term of 2018 and we compare it with the same period in 2017, Madrid comes first with 17% and Majorca comes second with 14,7%. Both figures are very significant if we compare them with the national average which does not reach 4%. The next two cities on the list are Barcelona with an increase of 11% and Pamplona with 10,4%. The Tinsa report shows that even though houses have been sold at great speed, at present, the average time-range for the selling is 8,3 months. In the last term of 2017, the average selling time was 8,6 months. Currently, in Madrid, the estimated time-range for the selling of real estate is 2,4 months, which is less than it was during the last term of 2017 that was 2,8 months. As for Barcelona, the time-range for the selling of real estate is 4,8 months.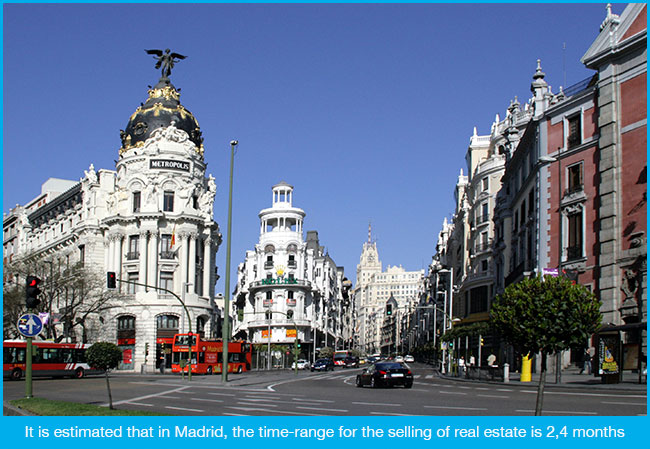 MADRID: AN IMPORTANT REVALUATION
According to the Tinsa report, the revaluation that has taken place in many districts in Madrid is a very striking fact. During the previous year, 15 out of 21 districts in Madrid have undergone revaluation. It is estimated that in these districts the average housing price has increased more than 10%. Barrio de Salamanca comes first of all with an increase of 23% (exactly 22,9%). It is followed by Moratalaz with 22,3% and Centro with 20,8%. In these three districts, the housing price per square metre is more than 4.000€. We must point out that it is remarkable that in Barrio de Salamanca the housing price per square metre stands at 4.734€. It is undeniable that the most demanded districts in Madrid are reaching prices which were inconceivable some years ago. In this respect, some experts have given a warning about a possible new housing bubble. However, a large number of market analysts have ruled out this possibility. In the blog of Estate One we are on the lookout for the development of the real estate market.
Picture 02: Fermín Rodríguez Fajardo