The Spanish Institute of Cultural Heritage is located in one of the most striking and interesting buildings in Madrid. This building (located in the area of Ciudad Universitaria, in the street Pintor el Greco nº 4) is popularly known as the "Corona de Espinas" ("the Crown of Thorns") due to the pinnacles which surround it. It is a must-visit for any visitor of the city who is fond of architecture.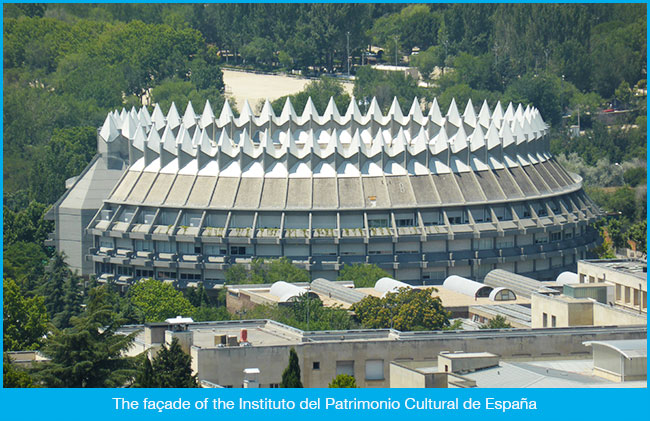 The building which houses the Instituto del Patrimonio Cultural de España is regarded as one of the most interesting and singular ones of modern architecture in Spain, and according to many experts it can be termed post-modernist. When you look at it from the outside and see its characteristic framework, you then realize it was designed to create an open space which fitted into its surroundings. When bystanders come upon this circular-shaped building, they are struck by its size and aspect. Obviously, it is not just another place in Madrid. Today, we have chosen this building which will follow the one of Museo Cerralbo, in our section Places with a lot of History. We invite you to join us.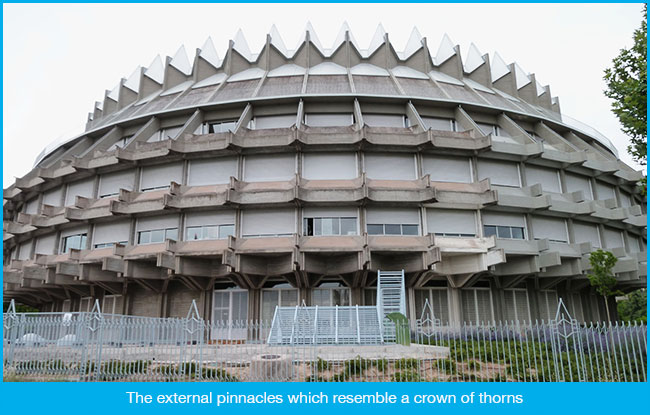 CONCRETE IS THE STAR
In 1965, the architects Fernando Higueras and Antonio Miró gave shape to a project made, four years before, by Fernando Higueras and Rafael Moneo. This design had, at the time, received the Premio Nacional de Arquitectura. The original project was remodelled in order to house the Spanish Institute of Cultural Heritage.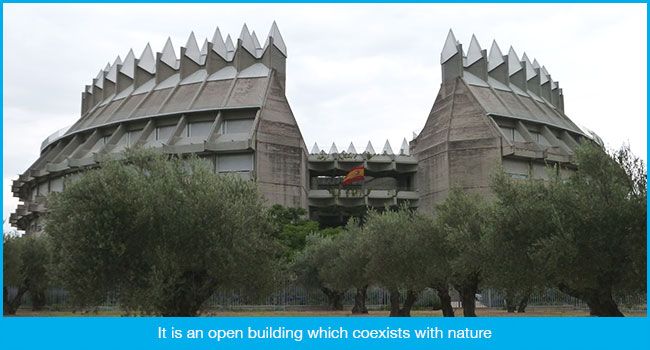 As we said, this building is located in the area of Ciudad Universitaria, and its rounded-shape has a radius of 40 metres and four floors, all of which have been constructed with reinforced concrete. The framework is made up of concentric rings made with reinforced concrete which is totally bare without any ornaments. Precisely because of that, the building looks solid and strong. However, thanks to the vegetation that grows inside it, its strength and toughness softens.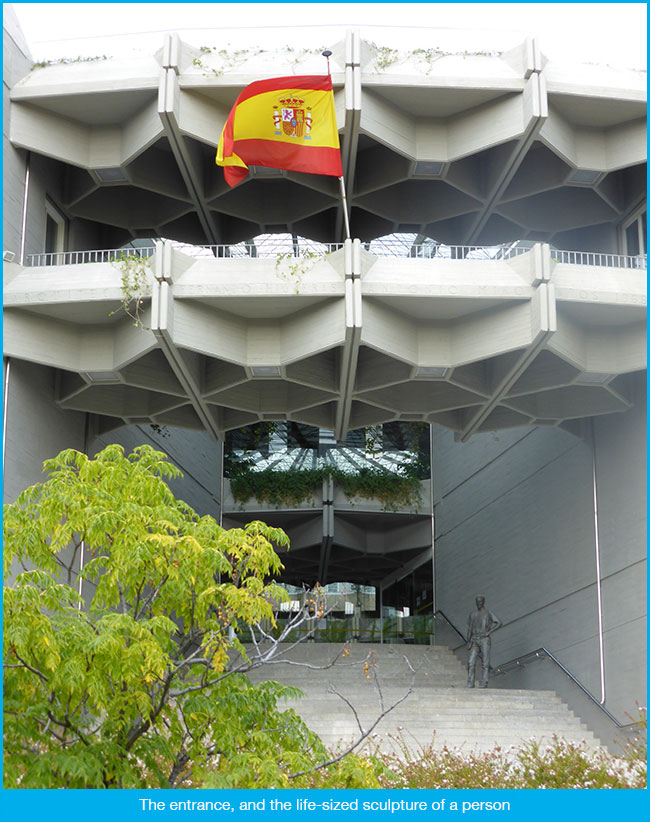 Architecture and nature coexist and this makes it a very pleasant place. On the other hand, it does not go unnoticed as it has great pinnacles which resemble a crown of thorns, and hence, the name the Madrileños gave it. In 1970, when the building works had advanced a great deal, the project was stopped. It was not until 13 years later, in 1983, that the building works were taken up again. Finally, in 1988, they were finished.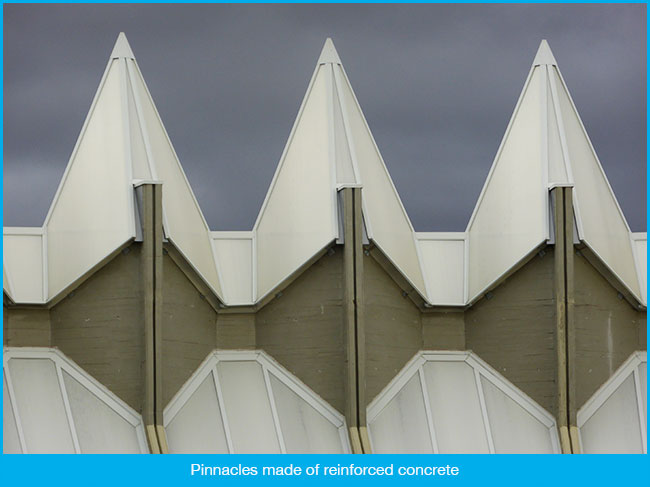 A MODERN CATHEDRAL
When you visit the Spanish Institute of Cultural Heritage, you might have the impression that you are in a XX century cathedral. This impression increases even more when you are inside and gaze upwards and see the dome which crowns the framework.
The building is monumental in size and this is proved by the sculpture, at the entrance, of a life-sized person. At first, this building was destined to house the Centro de Restauraciones Artísticas having a modern cathedral air. Nevertheless, nowadays, it houses the Spanish Cultural Heritage.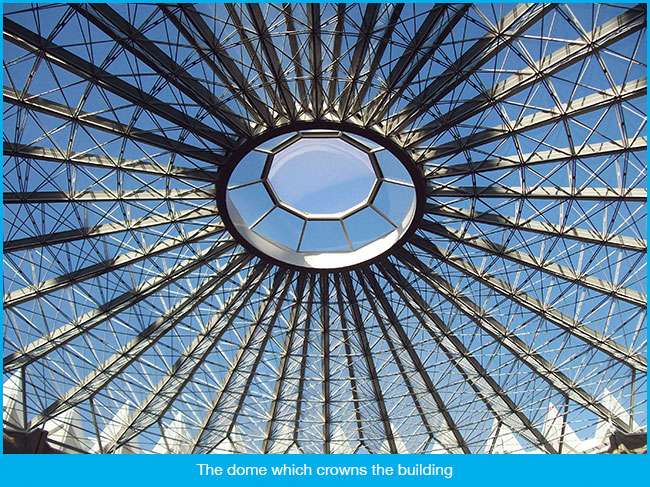 In addition, many researchers and scientists go there to consult the enormous library which is specialized in the Spanish Cultural Heritage. In 2001, this building was declared Property of Cultural Interest.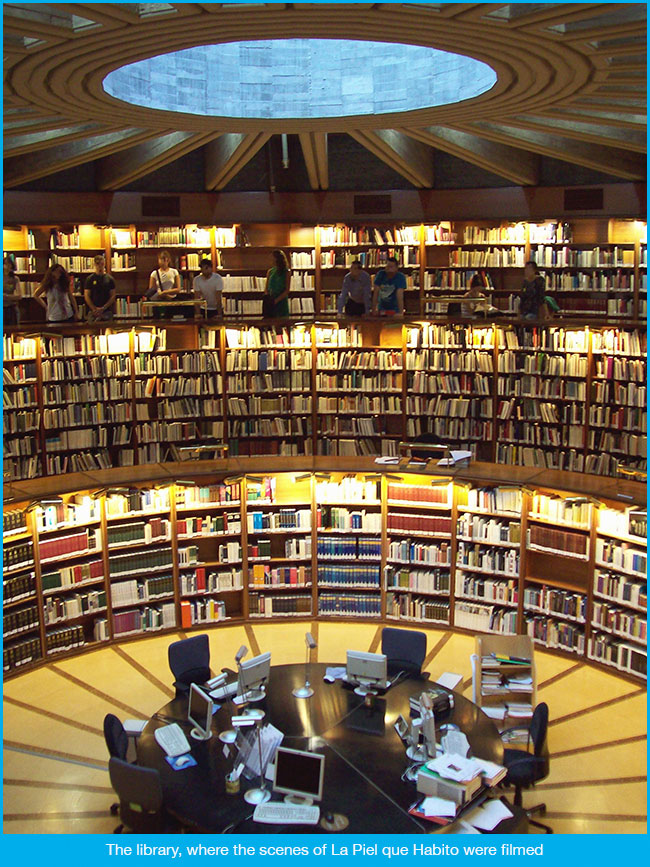 DID YOU KNOW THAT…?
This place has been used as a film set for some Spanish films such as Salsa Rosa, Airbag or La Tabla de Flandes. Pedro Almodóvar filmed some scenes of La Piel que Habito, in the library.
Pictures 01, 04, 05, 06 and 07: Carlos Teixidor Cadenas
Pictures 02, 03 and 08: Luis García