Plaza de Cibeles is one of the most iconic places in Madrid and when we look at old pictures we can imagine what it was like decades ago. It is next to impossible to find a tourist in Madrid who has not visited Plaza de Cibeles. This well-known square is recognizable for the sculpture of the goddess Cibeles which presides over the fountain. It is also famous throughout the world because it is the scenario where the Real Madrid football club celebrates its victories.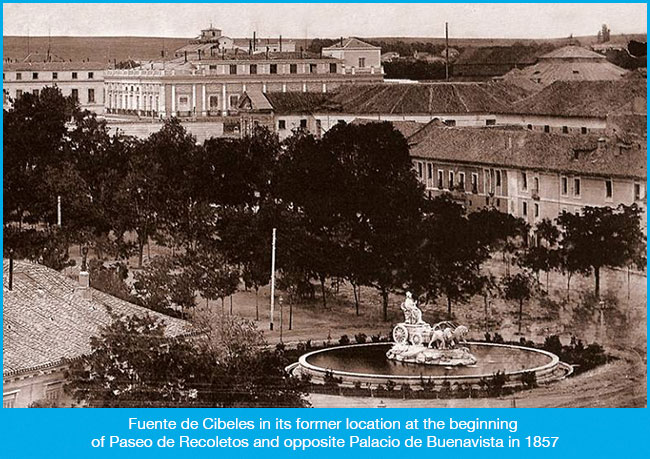 However, this square has some curious details which you may not know about. Did you know that it changed its name twice? Did you know that its current location is not the same as it was inicially? Today, we are going to see some centenary photographs which will enable us to look back into the past. These photographs are probably the oldest ones we have ever had in this blog. Today, we travel to the past of Plaza de Cibeles in our section A walk in the past. Some time ago, we wrote about Madrid in the 50´s.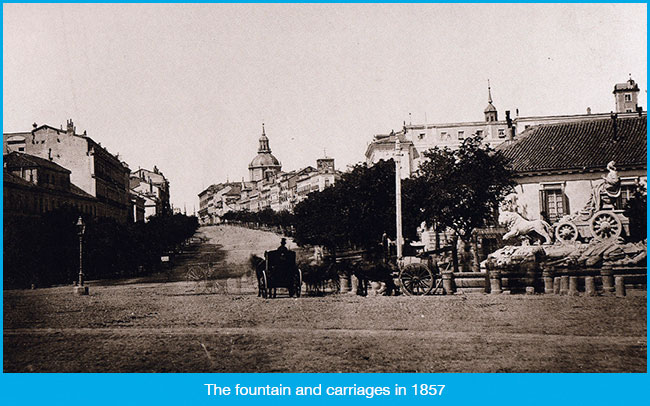 IT IS MORE THAN A PLACE AND IT IS MORE THAN A NAME
Originally, the Cibeles fountain was located next to Palacio de Buenavista in Paseo de Recoletos just opposite the Neptuno fountain. The Cibeles fountain was erected in 1782 and remained there for more than a century, till 1895 when it was decided to move it to its current location where Paseo de Recoletos, Paseo del Prado and Calle Alcalá meet.
The fountain was sculpted by the Madrileño architect Ventura Rodríguez in 1782. Initially, the fountain was not intended to be a decorative element, but far from it. It was used to supply water to the city of Madrid by means of its two great water spouts.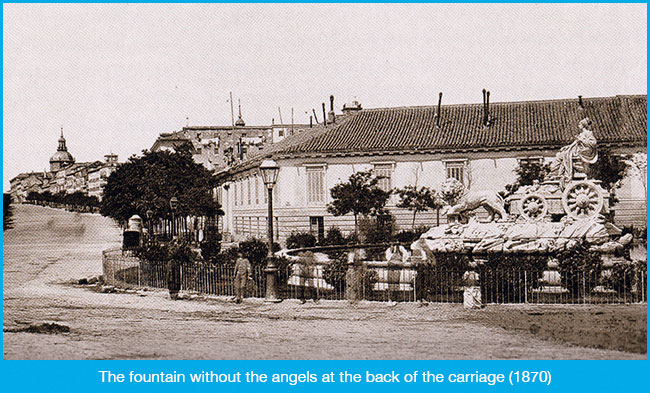 This fountain was also used as a horse trough. In those days, it was thought that the water of this fountain contained magical and healing properties. This belief lay on the fact that the origin of the old riverbed went back to the Middle Ages and many legends had circulated about it.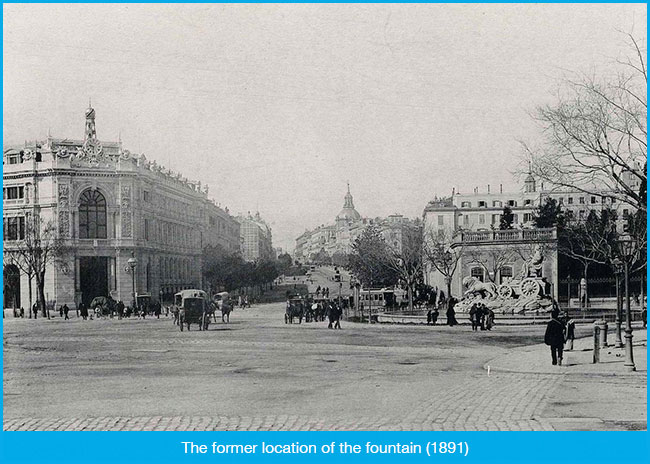 At first, it was called Plaza de Madrid and later on, in 1895 when it was moved to its current location the name was changed to Plaza de Castelar. Then, a small pedestal was built underneath it as well as some railings which surrounded it in order to avoid access to passers-by and curious people.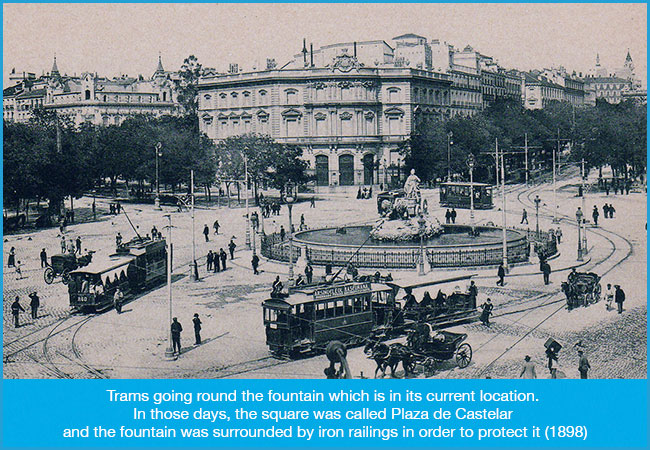 A roundabout around the fountain was also constructed so as to sort out the traffic of carriages. This roundabout was decisive to give it the look it has at present.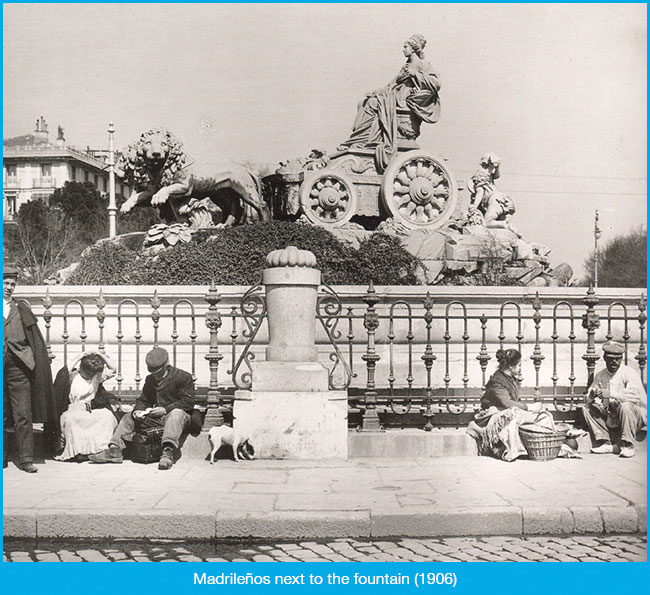 THE GODDESS CIBELES IS A WITNESS TO THE NEW TIMES
The goddess Cibeles could see from her privileged location how Madrid grew and developed throughout the years. Shortly after the fountain was set up in the centre of the square, the Banco de España was inaugurated. The XX century brought about the construction of monumental buildings which led to a complete change of the aspect of the area.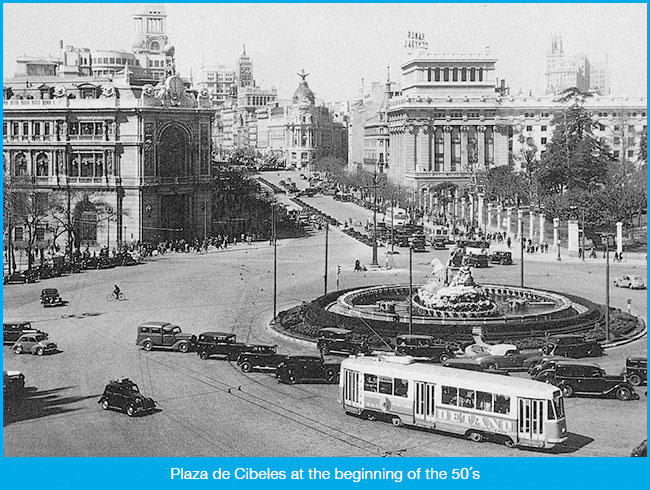 We refer to Palacio de Linares and to Palacio de Cibeles (also known as Palacio de Comunicaciones) about which we have already written in this blog. At night, Plaza de Cibeles with all its buildings illuminated is one of the most beautiful sights you can see in Madrid.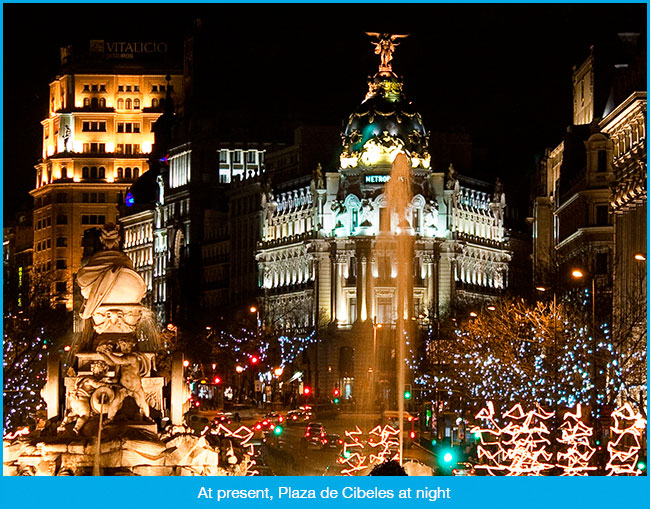 DID YOU KNOW THAT…?
Did you think that the Cibeles monument is unique in the world? You are mistaken! There is an exact copy of Fuente de Cibeles in Mexico. This replica was set up in Mexico City in 1980 and it represents the symbol of fraternity between this city and Madrid.
Old pictures: Imágenes del Viejo Madrid
Nowadays picture: Guzmán Lozano