We cannot ignore the reality of climate change and we must point out that the Spanish real estate sector is very much aware of this circumstance. Global warming has unfortunately become a fact which we must remedy. Due to this, the construction sector has considered a new scenario that will prevent new housing from contributing to the global warming problem. In this respect, great progress has taken place. Some time ago, we wrote an article about new building materials which were being tested in the Community of Madrid in order to fight against pollution. We also highlighted the buildings with the LEDD Certificate. These LEDD Certificates are very much valued in the Spanish real estate market. Likewise, in Spain, housing with environment-friendly certificates are awarded interesting tax advantages. This means that in our country we are becoming aware, step by step, of the enormous challenge of taking on a leading role in the struggle against climate change regarding the construction sector.
2050: A YEAR MARKED IN RED
According to the Green Building Council España (GBCE), a Spanish association whose aim is to create a sustainable market-based construction sector, the key date can be 2050 due to the fact that the CO2-emission levels can lead to an increase of 2 degrees in the temperature of our planet unless some trends in construction are corrected. This is the reason why the construction sector must build houses with very low or hardly non-existent energy consumption. We have come upon new times and everything reinvents itself at full speed. We already wrote an article about the transformation of the real estate sector by new technologies. Everything seems to point towards the construction of sustainable buildings which do not pollute. As we have already mentioned, Spain has made great progress regarding this issue. However, we still have a long way to go.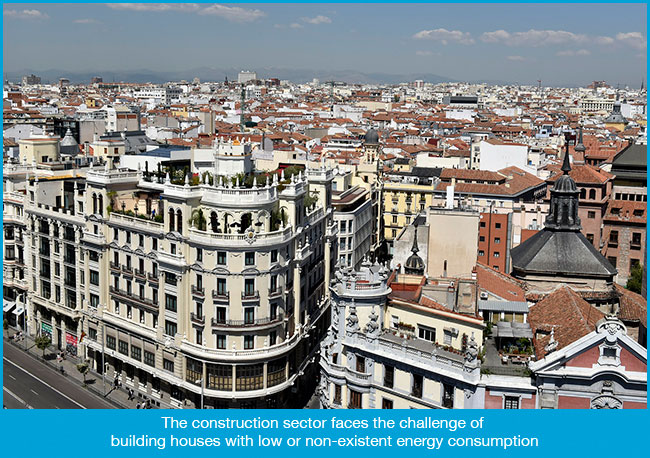 PROMOTING ENERGY EFFICIENCY
In order to battle against climate change, it is essential that the construction sector promotes and improves energy efficiency. The GCBE sets two ways to promote it: the sensible and responsible use of energy and also the use of new non-polluting energy sources. So as to move towards this, the association has stated that every urban project should be planned bearing in mind these factors. The association even goes so far as to recommend the demolition of buildings in the future. Due to this, architects that design buildings as well as real-estate developers will play an important role as they must know very thoroughly everything that is related to the building as well as its expenses. On the other hand, according to GBCE, a tool called PARAE is under development. This tool will show the steps that must be taken in order to carry out energy refurbishment of buildings.