In Spain, the purchase of luxury housing is constantly increasing and also very much in demand. The largest number of business deals take place in Madrid and Barcelona because many clients seek high-standing and luxurious properties either in the centre of the city or in exclusive housing estates. This fact does not surprise us because some months ago we wrote an article about the good times that luxury housing was living through in Spain. We mentioned facts and figures comparing 2015 to 2016 and we saw an important rise in the number of deals. In that article we also said that 2017 was expected to undergo an important growth regarding the sale of luxury housing in the Community of Madrid. This is how it has turned out and we must add that this situation has led to an important price increase which experts and analysts have been very much aware of. According to some surveys, there has been an increase of nearly 11% in the price of luxury homes in Madrid. This fact places Madrid as one of the top 10 cities in the world where luxury housing has risen most in value.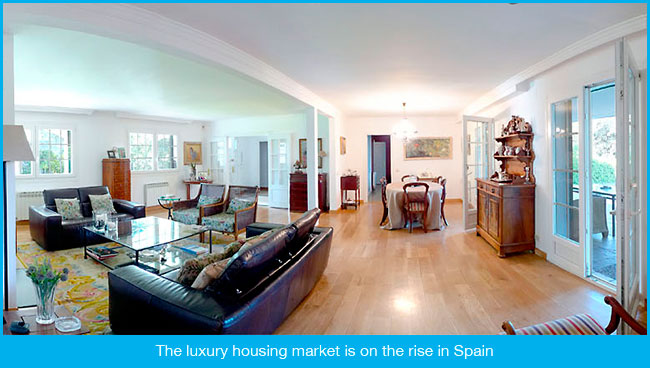 LATIN AMERICAN CLIENTS BOOST THE LUXURY HOUSING MARKET
The clients who boost the luxury housing market can be diversified into two separate groups: the ones who look for a second residence and the ones who wish to make an investment. Some time ago, we wrote an article about the most valued features which luxury home clients wanted. Nowadays, it is obvious that there are not only Spanish clients but also foreign clients in search of luxury housing and they are all ready to pay regardless of the price and without batting an eye. Among this exclusive group of clients, we want to highlight the Latin American purchaser. In Spain, one out of three clients who invest in luxury housing is Latin American. This fact is not surprising as we must be aware of all the advantages that Spain offers, such as the quality of life and a common language. However, above all we want to stress the common cultural bond that we share with countries such as Argentina, Venezuela, Mexico or Colombia. All these factors are decisive in making Spain their first choice. Most Latin American clients opt for Madrid because of the great number of flights which connect this city to all Latin American countries. On the other hand, the buyer of luxury housing in Barcelona usually comes from Europe (Holland, Germany, France, Belgium), whereas, British clients prefer to purchase luxury housing on the coast.
MADRID IS AT THE HEAD
As we have already said, Madrid has lately undergone an important rise regarding the demand of luxury housing and it is also the investors´favourite city, despite the fact that the offer is very limited. Thus, the search for luxury housing in Madrid is not an easy task. As for the most exclusive areas in Madrid such as La Moraleja, El Viso or La Finca, the prices have risen even though in previous years they had moderated. So much so that in many cases they have even reached their maximum value which is equal to the one in 2006. Madrid excels regarding the real estate market. This fact can also be applied to luxury housing which is in very high demand in the city. We must pay attention to the development of this market because at present, it is one of the most sought-after in the world.